Last week over 40 forensic anthropologists and their students converged on Boulder City, NV for the 34th annual meeting of the Mountain, Desert & Coastal Forensic Anthropologists.  This provided the backdrop for amazing connections and motivation for the UIndy team that is focusing on issues of migrant death.  While the meeting emphasized scholarship and casework in all areas of forensic anthropology, the team was able to connect with some prominent people working in the trenches of this human rights issue.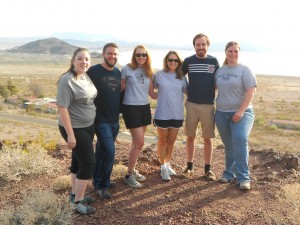 The UIndy team was able to spend quality time with Dr. Lori Baker, the director of the identification efforts in Brooks County.  This allowed us time to formulate an archeological plan for the field efforts that will begin next week in the Sacred Heart Burial Park. Ryan suggested that each student group do daily presentations on their progress in the field during our evening debriefings, an idea favored by Dr. Baker.  Each UIndy student team member will have a leadership role this field season and they were ecstatic to share their ideas with Dr. Baker.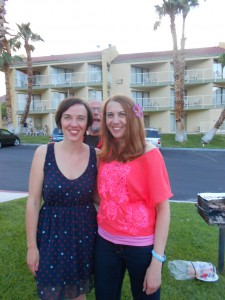 We were also able to connect with Robin Reineke, executive director of the Colibri Center for Human Rights.  The mission of the Colibri Center is to improve the identification of human remains found on the US-Mexico border and to inform the public of this human rights issue by building a unique system for the collection, management, and sharing of data about the deaths and disappearances. Robin and her team are instrumental in reaching the families of the missing and collecting invaluable missing persons information to aid in the identification efforts. I tried to get a nice photo with Robin, but notice we were photo bombed by prominent forensic anthropologist Dr. P. Willey from California State University, Chico. You can't say forensic anthropologists don't have a sense of humor! 
We spent time interacting with Dr. H. Gill-King, Dr. Wendy Potter McQuade, and John Servello of the University of North Texas center for Human Identification. This Texas laboratory will be generating DNA profiles from all of our unidentified individuals with the hope of matching the genetic information to a family reference sample.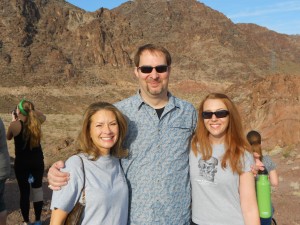 Dr. Eric Bartelink of California State University, Chico graciously offered to run isotope analysis on the 13 individuals currently being analyzed at UIndy. This type of molecular analysis has the potential to identify the country of origin of these migrants and will provide a geographic reference point to begin searching for families of the missing.  Dr. Bartelink is providing a valuable service and important step in returning these unidentified individuals to their families. He offered to cover the cost of supplies (which will run over $2000) out of his own pocket. Our hope is to continue our fundraising efforts to help compensate him for his efforts.
Our team was most humbled and most honored when Dr. Bruce Anderson of the Pima County Office of the Medical Examiner proposed that the MD&C donate some of it's annual fundraising efforts to our mission.  Each person at that meeting has noble missions they support and the sincere gesture and assistance for our mission was overwhelming.  It gave us a boost of confidence and assurance that we are doing the right thing and making a difference.