Cheneta Morrison
Human Biology, undergraduate '14
Role: Rookie
Hometown: Fort Wayne, Indiana
(June 2014 Team)
How is your expert role important to the group's mission?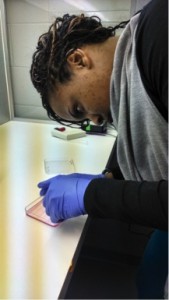 Being a new member to the team—the Rookie—I do not have an expert role, however I hope to observe each member in the field and help out as much as possible so I can grasp a full understanding of what each member does.
Why is this humanitarian work important to you?
Humanitarian work is important because it is a way of giving back. Regardless of where the work is done, helping other individuals and the surrounding area gives me a sense of gratitude. There is an emotional attachment with coming together with others to help a greater cause.
What do you hope to gain from this experience?
I hope to gain understanding of the forensic science field and appreciation for those who are involved in this humanitarian work. Forensic science is the field I would like to focus on and this is an opportunity for me to experience it firsthand. There are people who volunteer their efforts for this type of humanitarian work, and I hope to learn more from their experiences.
What's one thing people probably don't know about you until they've known you a long time?
I love to sing and I love Disney.
When did you know you wanted to pursue human biology as a degree, and how did you become interested in forensics?
Once I graduated with a criminal justice degree and realized I needed a degree in science to become a forensic scientist, I decided to pursue a human biology degree. It's been a field that I have always been interested in.
What advice would you give other students interested in pursuing a human biology degree at UIndy?
While pursuing this degree I have met some of the most amazing professors! I would advise anyone pursuing this degree to be ready to learn a lot and if you give it your best you will be amazed at all the knowledge you will obtain.