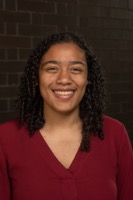 Kaitlyn Glavee
Major: Human Biology
Class: Graduate Student
Hometown: San Ramon, CA
Role: Rookie
Why is this humanitarian work important to you?
Humanitarian work is something I hope will always be a part of my career. But, having many friends who are personally connected to this crisis has put it at the forefront of my mind. I believe all individuals are deserving of dignity and respect both throughout their life and after death. I know I can't do much to help with the tremendous amounts of grief and suffering these families and communities go through but I want to do what I can, wherever I can.
What do you hope to gain from this experience?
Knowing about the humanitarian crisis at the border is so different from experiencing it firsthand. I hope that this experience will provide me with the exposure I need to be a good scientist and advocate.
I know I want to pursue a career that has an emphasis on human rights and humanitarian work. I hope this experience serves as confirmation that I am suited for this kind of work and capable of using my career as a positive force in the world.
What are some of the biggest challenges you will face while in Texas?
As I mentioned before, I have a lot of knowledge about the border crisis but no personal experience of my own. I think that being in such an emotionally charged environment will be a significant test of my mental fortitude but also an opportunity for a lot of growth. Being new to this environment and this team will also be a challenge but I am confident in my ability to learn quickly and adapt.
What's one thing people probably don't know about you until they've known you a long time?
I can read fluently in Esperanto but I can't speak it (Strange, ĉu ne? Bedaŭrinde, mi ne multe uzas ĝin.). It's a language that was invented in the 1880s. There aren't very many speakers (generous estimates say about 10 million people) but it doesn't matter anyway because I wouldn't be able to speak to them.
When did you know you wanted to pursue human biology as a degree, and how did you become interested in forensics?
I was fourteen years old when I enrolled in my first anthropology course at a community college. I had never been more engaged or challenged by a subject. I pursued countless opportunities to learn more. The next summer I enrolled in biological anthropology and I was hooked. I saw in biological and forensic anthropologists the character I wanted to embody as I grew up. I love engaging with and helping people but I am also passionate about science.
I didn't know human biology was the next step for me until it was recommended to me by a professor. It was upon reading about this program that I realized this was the perfect place for me to expand my knowledge of biology.
What advice would you give other students interested in pursuing a human biology degree at UIndy?
Be an active participant in your education. Seek help when you need it, ask questions, and ultimately pursue what you are passionate about. There are so many opportunities to learn and a lot of diverse perspectives to learn from. Take advantage of it!
What makes UIndy's human biology program distinctive?
For me, it was the science emphasis that stood out from other programs. I had a strong anthropology background that I get to continue building on but I am also getting to pursue subjects that are new to me. In addition, this program allows so many opportunities to apply what we learn in the classroom in forensic casework or other lab settings.