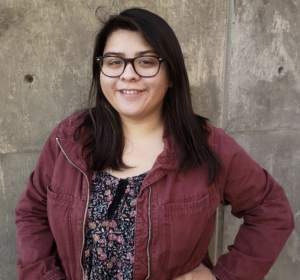 Tanya Ramos
Expert Role: Field Expert

Major: Human Biology

Class: Graduate Student

Hometown: Las Vegas, Nevada
Why is this humanitarian work important to you?
I became exposed to the humanitarian crisis taking place in the Southwestern U.S./Mexico border during my undergraduate studies, and it quickly became the reason why I am continuing to pursue my degree in Forensic Anthropology. I want to be a part of the effort that helps repatriate migrants to their loved ones. I feel particularly compassionate to this type of work because I grew up hearing my parents' stories of crossing the border. My motivation comes from thinking of individuals who have not had the luxury to hear similar stories because friends or family members have succumbed to the perils of the treacherous journey.
What do you hope to gain from this experience?
Getting to go on this trip will put everything into perspective and I hope to gain a sense of appreciation about the hardships migrants experience while crossing the border.
What are some of the biggest challenges you will face while in Texas?
At first glance, some might say the biggest challenge I will face is the unwelcoming terrain of the desert. The sun, the heat, dehydration, carnivores, snakes, spiders, etc. While those challenges really are daunting, I believe the biggest challenge will be the emotional toll this trip will have. You watch and read about the humanitarian crisis in academic works, newspapers, on television, but physically walking the same paths migrants walk every day will be tough.
What's one thing people probably don't know about you until they've known you a long time?
I am really into music, I collect CDs, cassettes, and vinyl records. To be honest, I have not had much time since starting graduate school to check out Indiana's record or thrift stores to look through the "stacks", but it is one of my favorite pastimes. One of my favorite finds has been The Beatles' "Rubber Soul" for five dollars, which also happens to be my favorite album by them.
When did you know you wanted to pursue human biology as a degree, and how did you become interested in forensics?
I have been interested in forensics since a very young age. My mother and I would spend the weekends watching true crime shows like Dateline NBC or Forensic Files. I was fascinated that at the end of each episode science would always prevail and bring the truth to the surface. My love for science was what led me to pursue a degree in Human Biology, where the curriculum is heavily based on courses such as anatomy, genetics, physiology, etc.
What advice would you give other students interested in pursing a human biology degree at UIndy?
I would suggest that prospective students talk to professors and current graduate student as much as possible to gain insight on what the program entails. Do not be afraid to ask questions. Also, do not let anything deter you from applying, not even the winter snows. Of course, graduate school is a lot of work that usually involves 12-hour days on campus, but it is worth it. I love this program so much; my professors and colleagues are wonderful.
What makes UIndy's human biology program distinctive?
The amount of hands-on experience that UIndy human biology students are involved in really makes this program unique in nature. In my first semester, I have already had the opportunity to be involved in extracurricular duties such as forensic casework and recoveries. I am learning so much about my field every day!