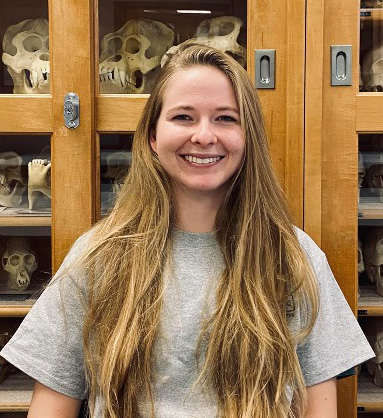 Olivia Messenger
Major: Human Biology
Class: Graduate Student
Hometown: Germantown Hills, IL
Role: Field Expert & Photography Expert
Why is this humanitarian work important to you?
I have been very lucky in life. I get to live in a country where I have personal freedoms that are not a given in many other countries. I have never had to experience the pain and uncertainty that many migrants and their families face every day. Reading about the crisis at the border and seeing news coverage is one thing, but being immersed in it will be completely different. Everyone deserves to live a long, safe life, but, unfortunately, this is not reality. This trip will help provide voices for those that gave up everything in search for a better and safer life and provide closure to their family and friends.
What do you hope to gain from this experience?
I hope to gain a better understanding of the humanitarian crisis that is occurring at the border and see how the concepts we learn in the classroom can be applied in real-world scenarios. I also hope I can share the experiences I have with people back home in order to open their eyes to and humanize what is happening at our borders. The more people that know and care, the more we can do to address the issues.
What are some of the biggest challenges you will face while in Texas?
I know the emotional and physical tolls of this trip will be difficult on me, but nothing compared to what many migrants face in their home countries or on the journey for a safer and better life.. I will also struggle with the snakes (they don't have enough legs) and the spiders (they have too many legs) we may encounter on the trip.
What's one thing people probably don't know about you until they've known you a long time?
I have a twin brother!
When did you know you wanted to pursue human biology as a degree, and how did you become interested in forensics?
As corny as it sounds, I knew I wanted to work in forensic science from a very young age. I loved mysteries and true crime shows where the forensic scientist seemed to almost magically supply vital information needed to solve the case. I also loved my science classes, specifically biology and anatomy, and I knew I wanted to go into a science field. However, I knew I didn't want to just be in a lab for the entirety of my career. I wanted to be able to be in the field and work with people of different disciplines. A degree in human biology includes knowledge in a variety of subfields including anatomy, osteology, genetics, physiology, and histology, which will help me communicate with other professionals, as well as help make me a well-rounded forensic anthropologist.
What advice would you give other students interested in pursing a human biology degree at UIndy?
Don't be afraid to ask questions or have new experiences! We're all here to learn, and everyone is just as nervous as you are! The program is rigorous, but the opportunities offered, knowledge gained, and connections made both in and out of the classroom make the effort worth it. Being willing to learn will take you a long way, and don't be afraid to let your passion for the field show. A degree in human biology is applicable to numerous fields, so you can do so many things with what you learn.
What makes UIndy's human biology program distinctive?
The hands-on nature, variety in classes, and other opportunities of UIndy's program are unique. You will gain experience in numerous subfields that will contribute to making you a well-rounded scientist. There are many opportunities to be involved in research and forensic casework starting your first semester, and you also have the ability to work as a TA or even teach your own class.