Alba Craig
Expert Role: Field expert

Major: Human Biology

Class: Graduate Student

Hometown: Ciudad Real, Spain

(May 2019 Team)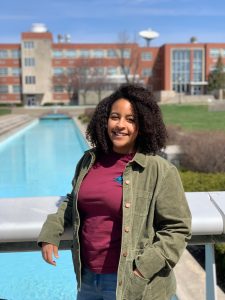 Why is this humanitarian work important to you?
Studying forensic anthropology, it is easy to get lost in the task at hand and forget the implications of the work that we are doing for living members in our community. As I continue furthering my education, I've realized that I am capable of enforcing positive change in my community and it has become something that I enthusiastically want to pursue. Being a part of the Beyond Borders team, I hope to gain a better understanding and a more knowledgeable perspective of the humanitarian crisis at the US-Mexico border. Although there will never be a time in my life where I will be able to completely understand the decisions and hardships of families who decide to cross the border, I want to be able to provide empathy, compassion, and humanitarian aid to this community.
What do you hope to gain from this experience?
I hope to gain a more holistic and informative understanding of the humanitarian crisis at the border. As a country, we are experiencing such political and social divide over subjects that very few people are truly knowledgeable about and I don't want to be one of those people. I hope that this experience allows me to gain a deeper understanding that I am then able to share with others who are not living this crisis day-to-day.
What are some of the biggest challenges you will face while in Texas?
I know this trip will be emotionally and physically taxing and these will be my biggest challenges. As I've never been to Texas, I will be experiencing a new environment with different climates, flora and fauna that I've never been in contact with before. I will also be interacting with a different population that I don't get to interact with as much on a daily basis. I will definitely have to constantly and quickly adapt to my environment in order to participate most effectively in our mission.
What's one thing people probably don't know about you until they've known you a long time?
My mother was born in Spain and my father was born in the US, so I have the privilege of having dual citizenship. This makes it extremely easy and convenient to travel to and from Europe to visit family!
When did you know you wanted to pursue human biology as a degree, and how did you become interested in forensics?
I graduated with a Bachelor of Arts in anthropology almost a year ago and this has always been a field that I've been passionate about. But, I knew that I wanted to pursue a master's degree in human biology because it would open new doors for me and allow me to explore other career paths that still revolved around my skillset.
My love for forensics really peaked during my junior year of undergraduate when I was given the opportunity to intern at the CSU Chico Human Identification Laboratory where I got to experience a glimpse of what it's like to navigate the medicolegal system as a forensic anthropologist. My experiences and curiosity of the field of forensics continue to grow at UIndy as I get to expand my knowledge on forensic anthropology and forensic DNA.
What advice would you give other students interested in pursuing a human biology degree at UIndy?
Do it! If you're passionate about this field, this program is capable of providing you with the tools to increase your knowledge of the field and explore new aspects of forensics first hand that isn't available in every program. It's difficult and requires a lot of time, but if you're doing what you love, it's 100% worth it!
What makes UIndy's human biology program distinctive?
Definitely the opportunities that it provides to its students. I have yet to hear about a program that lets their students participate so often in casework and give them hands-on experience in a field that we hope to pursue a career in someday.