Erica Christensen
Major: Human Biology, graduate student
Role: Mapping Expert
Hometown: Indianapolis, Indiana
(May 2013 & June 2014 Teams)
How is your expert role important to the group's mission?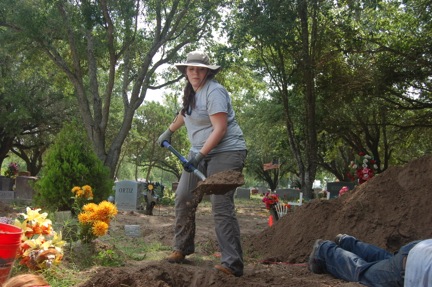 My role as the Mapping Expert is important for our groups mission by keeping track of the excavations. Mapping involves tying in the excavations to a fixed point and documenting surface and subsurface feature locations. When you have multiple grids at a site it is imperative that you document as much information as possible, that way if someone wants to go back and analyze one burial in particular they are able to clearly understand the scene, even if they did not participate in the excavation. Excavations naturally destroy the scene and by making maps, the scene can be recreated and contextual evidences can be preserved.
Why is this humanitarian work important to you?
I believe that everyone, no matter where they were born, has basic human rights, including proper treatment of remains after death. The individuals that are perishing trying to cross borders are simply trying to escape a life of violence, poverty, and restricted rights. They deserve to be remembered and their loved ones deserve to know what happened to their spouses, parents, children, siblings and friends. By participating in this project we are working to make this a reality. The excavation is an important first step in identifying and returning loved ones home.
What do you hope to gain from this experience?
I became undoubtedly attached to this mission after last summer's field season. While it is a great field experience, the personal connection to the community is something I will never forget. I hope to make the same connections again this summer and do my best to help this community.
What are some of the biggest challenges you will face while in Texas?
We arrive to the scene before the sun is fully up, spend all day in the hot South Texas sun hand digging each grave, and then do it again the next day. Even though the work is not physically easy, I think the biggest challenge is the emotional impact. Family members and human rights groups tell us stories of missing loved ones, both recent and long lost; these stories stick with you, but they also give me drive to continue this important work.
What's one thing people probably don't know about you until they've known you a long time?
I think most people are surprised to learn about my love of painting. While the arts and sciences are usually quite divergent, I have always filled my electives with advanced art and art history classes.
When did you know you wanted to pursue human biology as a degree, and how did you become interested in forensics?
I have had a strong passion for sciences since I was a young child dreaming of being a veterinarian for a zoo. It was my high school anatomy and zoology teacher that recognized my passion for skeletal anatomy and suggested I look into the field of physical anthropology. During my time at Michigan State University as an undergraduate, I became interested in the field of forensics and wanted to pursue a master's degree in human biology to expand my scientific knowledge that could be applied to several different fields.
What advice would you give other students interested in pursing a human biology degree at UIndy?
For the Master of Science in Human Biology program I suggest taking as many science classes as you can. Even though my undergraduate degree was in Anthropology I took elective classes in anatomy, physiology, osteology and chemistry. These classes have been invaluable during my time in the program.
What makes UIndy's human biology program distinctive?
I chose UIndy's Master of Science in Human Biology program because of the overwhelming opportunities the program allows. We are able to take a multitude of different classes, teach, participate in forensic casework, and present original research at regional and national conferences.
Besides the work, what was your favorite memory from last year's trip?
The most memorable memory from last year's field season was meeting Rafael Hernandez; he started an organization called Los Angeles del Desierto, a humanitarian, volunteer search and rescue team dedicated to searching the desert for missing people and saving lives. Rafael was in the area trying to gain access to the ranches around Falfurrias and came to the cemetery to learn about our humanitarian work where he would spend afternoons helping us dig. It was such an honor to meet someone that has dedicated his entire life to saving others. The day I most remember was late in the day when we were packing up for the day, Rafael approached Dr. Latham in tears thanking our entire crew for bringing attention to the crisis in Brooks County. With the additional attention, a rancher felt comfortable allowing Rafael's team onto their property where they were able to save an 11-year girl that had been separated from her group. I will never forget that moment and it gives me so much drive and strength to continue this work.
What's the one thing you learned about your fellow participants that you didn't know before last year's trip? Or what surprised you most about them?
I learned that Jessica is excellent at shoveling and can somehow sleep through anything. Justin has a never-ending supply of bad jokes and knows the words to almost every song imaginable. Ryan knows how to two-step and where to go for the best food in Texas. My favorite part was that after six-hour long car rides, spending all day in the field, and living together for over a week, we never grew tired of one another. We looked out for each other, encouraged breaks and quickly realized other's strengths, allowing us to optimize our excavations.