Sarah Fann
Major: Anthropology,  3rd-year undergraduate
Role: Cultural Anthropologist
Hometown: Elkhart, Indiana
(Jan 2017 Team)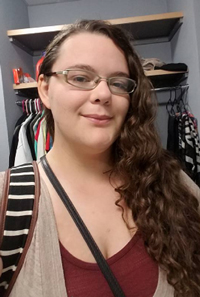 How is your expert role important to the group's mission?
My role is to assist both the UIndy forensic team and the South Texas Human Rights Center human Rights however I can during my time working with them. I will act as a participant observer on the work which is being done on site and be working on a field journal where I will record my observations.
Why is this humanitarian work important to you?
I chose to follow the path to becoming an anthropologist because I wanted to better understand the lives of others. I have always strongly believed that it is our duty on Earth to help lift each other up. Humanitarian work utilizes both of these ideas as it works to understand and assist others in need. The work being done by the UIndy team on migrant death and identification helps bring closure to families and loved ones of those who have passed away on their journey.
What do you hope to gain from this experience?
I hope to learn about the challenges the South Texas Human Rights Center goes through on a regular basis. I wish to gain a better understanding of how humanitarian work is completed in general and learn how I may become more involved in the future.
What are some of the biggest challenges you will face while in Texas?
I will be in entirely new terrain in South Texas. I have never worked in the field with a forensic team or the organizations in the area. I will have to adapt to these new experiences and people as I go. I understand the mental and emotional toll of working with families under distress will also be significant.
What's one thing people probably don't know about you until they've known you a long time?
I am very passionate about the visual arts. I participate in drawing, painting, and photography most frequently, but I also have tried three-dimensional art from time to time.
What makes UIndy distinctive?
UIndy is distinctive in that it is easy to meet with professors and plan your academic career. Staff is always willing help guide you into taking classes which you might find most interesting or inform you of where you can get involved in volunteer or internship activities. Many anthropology classes encourage or require their students to pursue their anthropological interests either through research, interaction with peoples of different cultures, or experiencing something new outside your comfort zone.