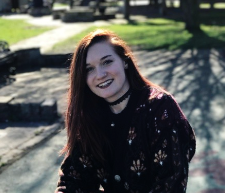 Arden Mower
Expert Role: Mapping Apprentice

Major: Human Biology

Class: Graduate Student

Hometown: Bury St. Edmunds, U.K. (Jan 2019 Team)
Why is this humanitarian work important to you?
Humanitarian work is a large aspect of forensic anthropology that I could see myself pursuing in the future. I believe that it is one of the best applications of our skillset as forensic anthropologists, because the work aims to bring justice to a much bigger cause. In this case, the immigration crisis. I have experienced the humanitarian side of forensic anthropology before while traveling to Guatemala to learn about their 36-year genocide. It made me much more passionate about the field, as I got to see firsthand how the exhumation, identification, and return of remains can make a difference to families who have experienced the tragic loss of a loved one. I imagine Texas will be another eye-opening experience that will reassure me that the work we do is meaningful. If what we are doing can help in even a small way for people who have lost their loved ones, it is work worth doing.
What do you hope to gain from this experience?
I believe that this trip will open many doors. Not only do I aim to learn mapping and excavation skills, but I aim to get a better understanding of why this work is important. Humanitarian work is something I would love to be involved in as I progress in the field of anthropology. I hope to gain a social anthropology perspective through this journey as we learn more about situations that result in the burial of these migrants.
What are some of the biggest challenges you will face while in Texas?
I am eager to see what challenges lie ahead. I am prepared to push myself physically, as we have been told that we will have long days of digging under possibly harsh weather conditions. Another challenge will be to push through what may be emotional work. We will be working with human remains, and the key word there is human. We know that many of them died in tragic ways and it is difficult to know how that will affect us after we go back to the hotel at the end of the day. But everyone that I have talked to who has participated in Beyond Borders before has said that the experience was life changing. Although it may be challenging, it is a challenge that I am eager to embrace and make the most of.
What's one thing people probably don't know about you until they've known you a long time?
I have a small zoo in my home which includes two Vietnamese mossy frogs, two giant waxy monkey tree frogs, one pac-man frog, three crested geckos, a golden gecko, two sandfish skinks, a bearded dragon, a bynoe's gecko, a hognose snake, a Kenyan sand boa, a bull snake, four death feigning beetles, several fish, and a cat. Hey, at least I have one that has fur.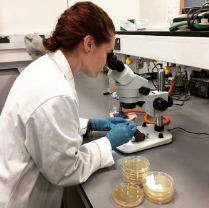 When did you know you wanted to pursue human biology as a degree, and how did you become interested in forensics?
As cliché as it sounds, I have been interested in forensics since I can remember. I have only ever wanted to be two things in my whole life, age 4 to age 7 I wanted to be a herpetologist and age 8 to the present I have wanted to be a forensic anthropologist. I got my undergraduate degree in forensic science, which I loved because I had the opportunity to learn crime scene investigation, analytical chemistry, DNA analysis, forensic entomology, and everything in-between. I knew that I wanted to pursue forensic anthropology from there, and I discovered the Human Biology program at UIndy and knew it was a perfect fit for the next step in my career.
What advice would you give other students interested in pursing a human biology degree at UIndy?
Be prepared to dive head first into real forensic applications and challenging but fun classes. The Human Biology program can prepare you for a career in forensics, but also biology, teaching, genetics, archaeology, and so much more. The program is diverse and has opportunities tailored to everyone's unique goals.
What makes UIndy's human biology program distinctive?
I am only finishing up my first semester of my first year and I have already had the opportunity to attend a professional conference, go on a search and recovery, help with processing and analysis of human remains, and go to Texas with the Beyond Borders team. All of those are within the context of real forensic casework. I believe that I would not have the same professional and diverse range of opportunities if I were anywhere else.