Samantha Beck
Major: Human Biology, graduate student
Role: Mapping Expert
Hometown: Petaluma, CA
(Jan 2018 & Jan 2019 Teams)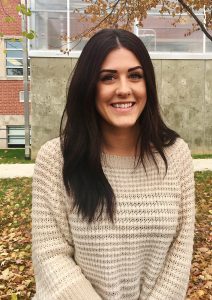 Why is this humanitarian work important to you?
I always knew I wanted a career that involved helping others. Before I was exposed to forensic anthropology, I considered pursuing psychology, social work, and even human resources. Although sometimes the job of a forensic anthropologist seems removed from the experiences of living people, it really gives a voice to the deceased and provides much-needed closure for their families.
I have been interested in the human rights application of anthropology for years now, so I am excited to take part in a humanitarian project in which we work towards repatriating individuals to their loved ones.
What do you hope to gain from this experience?
Being so far removed geographically, it can be easy to lose sight of the sociopolitical issues occurring at the Texas-Mexico Border. I hope to gain a broadened, more personal perspective about the issue, and be able to share some of the experiences and knowledge I acquire with my friends and family back home. I believe that more people will care, seek out ways to stay informed, and help resolve the issue if they have personal connections surrounding this deeply saddening problem in our country. Furthermore,
I am looking forward to learning mapping techniques from Leann, the current mapping expert on the Beyond Borders team. This field season will enable me to build stronger relationships with my colleagues and professors on the trip.
What are some of the biggest challenges you will face while in Texas?
I imagine the long days of physical labor will be difficult, and there will certainly be a bit of a learning curve while I grasp the methodologies during our first few days. Also, I always seem to encounter bees when I am outdoors, and the last time I excavated I was stung by a wasp. Hopefully I can make it out without a bee sting this time!
What's one thing people probably don't know about you until they've known you a long time?
No one ever assumes I am of South American descent, but my mom was born in Ecuador. She was born in Guayaquil and moved to the United States during her teenage years. Having Ecuadorian and Cuban family makes for some delicious holiday meals and fun Latin American cultural practices.
When did you know you wanted to pursue human biology as a degree, and how did you become interested in forensics?
When we got to the forensic portion of my first anthropology class during freshman year, I felt a drive and excitement that I had not experienced from my other classes. I knew that it was something I would be happy pursuing for years to come, and decided to change my major. Since then, I have grown increasingly in love with the classes, experiences, and opportunities I have taken part in while pursuing forensic anthropology. UIndy's program provided the resources to shape me into an overall stronger human biologist while still being involved in the forensic side.
What advice would you give other students interested in pursuing a human biology degree at UIndy?
I definitely recommend that others pursue the human biology program at UIndy. There are so many directions you can go with this degree, which gives you the freedom to continue discovering your interests while building your academic resume. My advice to other students looking to pursue human biology is to absolutely go for it, and put your whole heart into it. The intensive time and effort it will take to reach your academic and career goals in this field will be incredibly worth it if this is your passion. This is still the beginning of the journey for me, and I cannot wait to find my research niche.
What makes UIndy's human biology program distinctive?
UIndy has really incredible opportunities to gain hands-on experience in whatever area of human biology that students wish to pursue. Students are able to develop and enhance their skills in forensic anthropology, forensic DNA, osteology, and so much more. It is truly a program oriented towards the success and individual interests of the students, which I feel lucky to be a part of.