Justin Ross Maiers
Major: Human Biology, graduate student
Role: Veteran
Hometown: Lapeer, Michigan
(May 2013, June 2014, May 2015, May 2016 & Jan 2017 Teams)
How is your expert role important to the group's mission?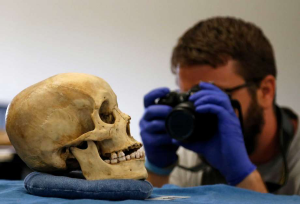 I have had the honor of working on this project since the beginning. Over time, it has become very personal to me. I have invested (both literally and figuratively) my blood, sweat and tears into this work. My role is to bring the skills and experiences I have gained in the past to continue our efforts in the exhumations and identifications of unidentified border crossers.
Why is this humanitarian work important to you?
Humanitarian work is important to me because it gives a voice to the unidentified who cannot speak for themselves. The process of identification helps to bring resolution not only to those who perished, but also helps bring closure to their families and loved ones. The goal of our work is to repatriate all of these individuals to their families and to give the people who loved them a place to grieve.
What do you hope to gain from this experience?
I have already gained so much from our work in Texas. I have bettered my skills as a holistic anthropologist. Not only have I learned so much about excavations and skeletal analyses, but I have learned about working with people and communities, and collaborating efforts. I hope that my experiences in Texas help me to continue growing.
What are some of the biggest challenges you will face while in Texas?
There are always inherent dangers working in the field in Texas. Heat, thorns, spiders, and snakes… As dangerous as they all can be, these are always the least of my worries. The biggest challenge working in Texas is always dealing with the emotional gravity of our work. While the excavation and identification process is incredibly gratifying, it is also amazingly difficult. The whole process is emotionally exhausting. Every story is riddled with tribulations, misfortunes, and heartache. I find solace in knowing that our work helps to provide resolution in a very trying time.
What's one thing people probably don't know about you until they've known you a long time?
I cannot whistle. I mean, I can a little, but it's pathetic.
When did you know you wanted to pursue human biology as a degree, and how did you become interested in forensics?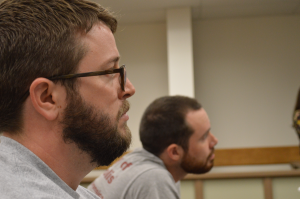 I originally started as a Criminal Justice major. "Justice" has always been an ephemeral concept to me, but one that was important to tackle. It includes much grander ideas like balance, resolution and making things right. Forensics is a way to address these issues directly.
What advice would you give other students interested in pursuing a human biology degree at UIndy?
Two pieces of advice; study science and love what you do. While "Human Biology" is our focus, we utilize many different fields of study such as physiology, chemistry, genetics and histology. They more science you can bring to the table, the easier it will be to succeed in our program. You also must love what you are studying. It is a lot of hard work, and it is easy to burn out if you are not passionate about your work.
What makes UIndy's human biology program distinctive?
I believe that opportunities like this are what makes our program distinctive. There are very few programs where you can get hands-on experiences and practice in the field. I have been given many amazing opportunities at UIndy, and I feel very luck for every one of them.
Besides the work, what was your favorite memory from last year's trip?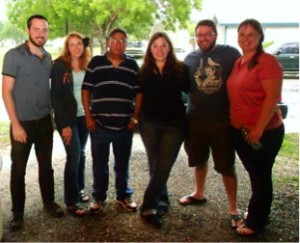 Last year Arturo, the local constable, invited us to his home and made everyone dinner as a way to thank us for our efforts. He and his brother told us how their parents crossed the border so they could have better lives. There is a misconception that border crossers are criminals. It made me realize that people migrate into the U.S. for an opportunity. They desire a chance at a better life for themselves and their families so much that they are willing to risk dying to get here.
What's the one thing you learned about your fellow participants that you didn't know before last year's trip? Or what surprised you most about them?
Jessica is a shoveling machine. It is impressive! Erica is not just good at making maps, but she actually enjoys making them. Ryan can pack the smallest bag and still fit all of his clothes in it. I was most surprised that after spending nine days with only each other, we actually got along better than when we started.