Leann Rizor
Major: Human Biology, graduate student
Role: Mapping Expert
Hometown: Milan, Michigan
(Jan 2017, May 2017 & Jan 2018 Teams)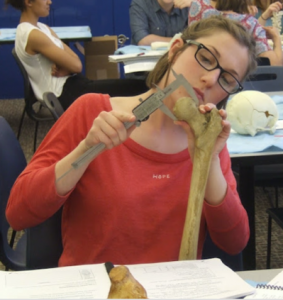 How is your expert role important to the group's mission?
My expert role is important to the group's mission because it will not only help preserve the context of each burial, it will also help us to document and better understand the layout of the cemetery. This will assure that we remain systematic and excavate every set of remains that are present in the cemetery, which is integral to our mission of exhuming and aiding in the identification of all those who perished crossing the border.
Why is this humanitarian work important to you?
Humanitarian work is important to me because I believe every human deserves to live in a way that does not infringe upon their basic human rights.  These individuals are being denied rights by way of the sociopolitical policies and procedures in place.  This denial makes humanitarian work important to me, because it will bring attention to these issues and hopefully change the situation down at the border. In addition, I want to become a forensic anthropologist because identifying individuals and bringing answers and closure to their families is very important to me.  The humanitarian work at the border will allow me to do this, which is also why participating in this opportunity is important.
What do you hope to gain from this experience?
From this experience, I hope to gain a better understanding of the humanitarian crisis that is occurring at the border. Living in Indiana and growing up in Michigan, I never got exposure to the crisis at the border. Now that I have the chance to become involved, I hope to gain a better understanding as well as bring attention to what is going on. I hope to help gain awareness as well as help in the identification of those who perished.
What are some of the biggest challenges you will face while in Texas?
I think I will face two main challenges while down in Texas. One obvious challenge will be the language barrier. I do not know much Spanish, so I am nervous it will pose challenges for communicating effectively. Another big challenge will be the physical and emotional exhaustion from exhuming these individuals. I am a very caring and compassionate person and I think this trip will challenge me emotionally, as well as physically due to the labor involved in the exhumations.
What's one thing people probably don't know about you until they've known you a long time?
One thing people probably don't know about me is that I love to paint! I am not very good at it, but I enjoy doing it when I have free time.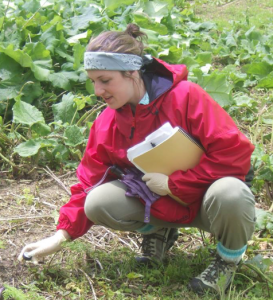 When did you know you wanted to pursue human biology as a degree, and how did you become interested in forensics?
I knew I wanted to pursue human biology as a degree my sophomore year in college.  I had been struggling for a while over what I wanted to major in, but each of the majors I was interested in were related to human biology and anatomy. I also knew that in whatever I did, I wanted to help people. My Human Osteology course my junior year of college piqued my interest in bones and skeletal biology. Using knowledge of human biology and osteology to help others through assisting in the identification of skeletal remains seemed like the perfect fit for me and I have never looked back or regretted this decision.
What advice would you give other students interested in pursuing a human biology degree at UIndy? What makes UIndy's human biology program distinctive?
My advice to those interested in pursuing a degree in human biology at UIndy would be to do it! The human biology degree is broad enough to be applicable to many different fields, but narrow enough that you can really tailor it to your interests and what you plan to pursue in the future. This degree is very unique because it provides a strong foundation in biology and the scientific method that is important basis to any scientific field. It also provides the unique opportunity to participate in forensic casework. The solid scientific foundation makes it highly applicable to many fields thereafter, including medical school and/or PhD programs. People in this program also get many research and teaching opportunities, and now, the ability to participate in humanitarian work truly makes this program unique.