Haley Rock
Major: Human Biology
Role: Field Expert
Hometown: Sebewaing, MI
(May 2017 & May 2018 Teams)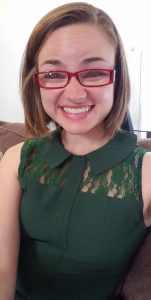 Why is this humanitarian work important to you?
I cannot even begin to fathom feelings that surface when a loved one is missing. I also cannot imagine the pain and frustration that must come from being oppressed. I am incredibly fortunate to live within the United States. I am afforded freedoms that many people are not. I have a strong belief that every individual living in this world deserves the same basic human rights. It pains me a great deal to understand that there are many people who are not afforded these basic rights of life, such as the right to freedom. This humanitarian work is important to me because it allows me to take part in reuniting family members with their lost loved ones, as well as bring to light the unjust treatment individuals may have faced in their lives.
What do you hope to gain from this experience?
I hope to gain a better understanding of human osteology and forensic anthropology, as well as a better sense of what individuals crossing the border face. I have lived in Michigan my entire life, and have had little to no exposure to the events taking place at the border.
What are some of the biggest challenges you will face while in Texas?
I think one of the biggest challenges I will face while in Texas is the range of emotions I will feel. I am very passionate about human life and human rights. I took many peace and justice studies classes while I was at Michigan State University, and I graduated with a peace and justice studies minor. It hurts my heart to hear of the sufferings people face and I know that examining the remains of those who have suffered will be a great difficulty for me emotionally.
What's one thing people probably don't know about you until they've known you a long time?
I have no depth perception! It is somewhat of a long story and therefore I will just sum it up to the best of my ability. I had a lazy eye when I was 6 months old, which went on for about 5 years. I had an eye patch for a while to attempt to correct my lazy eye, and when I was 5, I had eye surgery to fully correct the issue. However, because I had a lazy eye for so long, I lost the ability to see with both eyes at once. I am not blind in either eye, though — the surgery prevented that!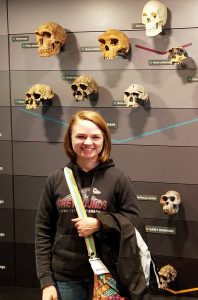 When did you know you wanted to pursue human biology as a degree, and how did you become interested in forensics?
I have always known I wanted to pursue a career that would allow me to help people. In high school I knew I wanted to pursue human biology as a degree by becoming a doctor. I was interested in becoming a pediatric ophthalmologist during my first three years of college, but when I was a junior, I was introduced to forensic anthropology. I fell in love with the idea of reuniting families with their lost loved ones and after volunteering in a forensic pathology office for 2 years, I knew this was what I wanted to do.
What advice would you give other students interested in pursuing a human biology degree at UIndy?
I would advise other students interested in pursuing human biology to take as many anatomy and osteology courses in their undergraduate careers as possible. I would also advise them to never, ever give up on their dreams. Sometimes life is tough and it would be so much easier to just give up, but finding something you are truly passionate about will be incredibly rewarding in the end. It will be worth the countless hours of studying, lack of sleep, lack of money, and excessive tears when you can truly do good in the world.
What makes UIndy's human biology program distinctive?
The human biology program at UIndy does not just focus on forensic anthropology. It focuses on anatomy and osteology, as well as many other biological sciences. Having this background of science will only better the aspiring forensic anthropologist because he/she will know so much more about the human body than just the bones. The understanding of how the body works is incredibly beneficial when reconstructing a person's life from their skeletal remains.