Jessica Campbell
Human Biology, graduate student
Role: Field Expert
La Crosse, Wisconsin
(May 2013 & June 2014 Teams)
How is your expert role important to the group's mission?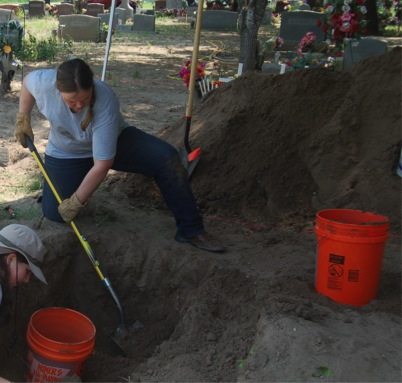 This year I will be responsible for evaluating each undergraduate burial after exhumation of remains to make sure that we recovered all possible elements. My role—Field Expert—is important because we don't want to overlook anything that may help us in our efforts toward identification.
Why is this humanitarian work important to you?
Last year, we went to Falfurrias with the anticipation that we could contribute our skills in archeological recovery and osteological analysis to this mission. We subsequently knew that without this kind of specialized help, the unidentified migrants buried in the cemetery would never be identified, and their families would never know what happened to them or where they were buried, or even if they were buried at all. It is important to me for the same reasons this year, but I'm also more attached to the mission after experiencing the response and the interactions with migrants' families and the community of Falfurrias. Each unidentified person in that cemetery has family that is missing them, and the missing have a right to go home to their families to be buried with their name and mourned.
What do you hope to gain from this experience?
This experience allows the opportunity to grow professionally in a mission that is a sustained duration, harder, and more emotionally charged than most we encounter in Indiana. I hope to gain skill in how to collaborate with other professionals in our field, as well as how to address families, community, and law enforcement that are integral in the success of the mission. Further, I will have the opportunity to be in a more direct leadership role in the field, which will test the skills I already have learned at UIndy.
What are some of the biggest challenges you will face while in Texas?
The biggest challenge for me was seeing the family that came to the cemetery looking for their loved ones and hoping the search for them was going to end in Falfurrias. We are always prepared to do the job no matter what arises, but it was the personal and emotional aspects that I was unprepared for in Texas, and I am not sure that any preparation I may do will help this particular challenge when we return.
What's one thing people probably don't know about you until they've known you a long time?
I don't quit until the job is done, and it doesn't matter what the "job" is or the obstacles involved. I think that is called stubborn, and maybe, come to think of it, that character trait doesn't take too long to figure out.
When did you know you wanted to pursue human biology as a degree, and how did you become interested in forensics?
I am interested in the recovery and identification of our missing service personnel, and their return to the families that have had no information of what happened to them and no place to mourn their loss. I have a strong interest in helping those that cannot speak for themselves anymore, including human rights victims. Through this training and degree, I can help to answer the most basic questions of who someone was and what happened to them. The human biology degree is the best degree to prepare me for this work.
What advice would you give other students interested in pursing a human biology degree at UIndy?
It is important to know exactly what you want in life before committing to a program like the Master of Science in Human Biology degree at UIndy. A lot of people considering this degree often are only interested in forensic anthropology, and that is only a small aspect of what the program is at UIndy.
What makes UIndy's human biology program distinctive?
The Master of Science in Human Biology program at UIndy is rooted in the biology department instead of the anthropology department, and is rigorous in scientific method and testing. It emphasizes study that is specific to a student's personal goals, but also covers all the necessary skills for this field. The results are a broad foundation that instills confidence in our skillset and scope of knowledge enabling our success in all pathways long after we leave UIndy.
Besides the work, what was your favorite memory from last year's trip?
My favorite part of the trip was the community experiences. We were unprepared for the impact we would have in the little county seat, but the community was grateful for the help and guidance with this mission. My most memorable experience was when we were invited out of gratitude to a local constable's house to have a traditional meal. The food was amazing, but it wasn't until his brother stood up that made the memory one of my favorites. His brother shared his family history with our group about how he would not be in a position to make a positive impact on the lives of others, and neither would the constable for that matter, if his mother hadn't migrated across the border for a better life. Even as he spoke of loss of family members and friends, he commended us for our efforts when no one else had the resources and skills to do it.
What's the one thing you learned about your fellow participants that you didn't know before last year's trip? Or what surprised you most about them?
I always knew it was there, but their determination and dedication to this mission everyday was staggering and humbling to be part of. We all worked to overcome new obstacles each day through heat and humidity. They all worked hours past what was advised, putting the mission first and knowing that the all individuals recovered had an opportunity for identification, while any that remained interred faced no chance for identification. We all believed that was unacceptable, and the inexhaustible driving force that resulted was amazing.