Helen Brandt
Major: Human Biology, Graduate Student
Role: Rookie
Hometown: St. Paul, Minnesota
(May 2016 Team)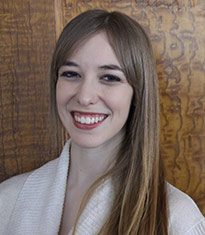 How is your expert role important to the group's mission?
As a rookie, I hope to learn as much as possible from the other experts on my team, but I also hope to contribute by bringing new perspectives to the situation in Texas.
Why is this humanitarian work important to you?
I chose to become a forensic anthropologist because I wanted to help bring an identity back to the deceased and to bring closure to their families. Not knowing what has happened to a loved one can make it incredibly difficult to move on, and being able to provide some answers is why I went into this field. The work we do in Texas exemplifies what I believe in, and is an application of human rights work by returning the deceased home to their families and giving them answers and hopefully some closure.
What do you hope to gain from this experience?
I hope to learn more about this political and humanitarian situation by being directly there, and I hope to learn how to collaborate and interact with all entities involved to help ameliorate this crisis.
What are some of the biggest challenges you will face while in Texas?
Much of the work we do as forensic anthropologists is objective lab work and away from the families and the entities that work with them. The emotional toll of interacting with the families and those hoping to find their loved ones is something I'm prepared for, but I know will be a challenge regardless.
What's one thing people probably don't know about you until they've known you a long time?
Dancing has always been one of my biggest passions in life. I tend to tap dance in line at the grocery store or choreograph at home in my spare time. Whether or not I'm in a dance class, I'm always moving.
When did you know you wanted to pursue human biology as a degree, and how did you become interested in forensics?
I had been an anthropology major as an undergrad, but I always really liked biology and wanted to go into a master's program where I could apply both fields. I also took a forensic anthropology class and realized that this was a way for me to do both. I pursued a human biology degree to gain a better foundation in biological concepts as well as continue integrating biology and anthropology for the greater goal of helping people find closure and to provide an identity to the deceased.
What advice would you give other students interested in pursing a human biology degree at UIndy?
I wish I had taken more biology and anatomy classes as an undergrad, but classes in which I got a lot of experience presenting and writing have also helped me succeed in my courses here.
What makes UIndy's human biology program distinctive?
The main thing I always say is that we get to participate in all aspects of casework, and not all programs do that. However, it's so much more than the casework experiences. Every class I've taken has been applicable to my field of interest, and all of the professors are willing to take the time to help you succeed not only in the classroom, but also in your career goals. We also get a number of opportunities to teach and do research. Additionally, as someone who has an interest in pursuing human rights work in the future, having the opportunity to do so now is invaluable.