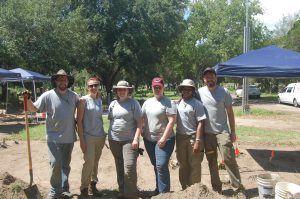 Today was our first day working in the field. The area of the cemetery we are exhuming has no shade and temperatures soared over 90 degrees today.  Our team knows the dangerous combination of heat and humidity means we follow two basic rules: 1) Hydrate, hydrate, hydrate and 2) work in 5 minute shifts (5 minutes on and 5 minutes rest). Five minutes may not sound like a long time to work, but when you are putting all your strength into digging in these temperatures, five minutes can be enough to bring you to heat exhaustion.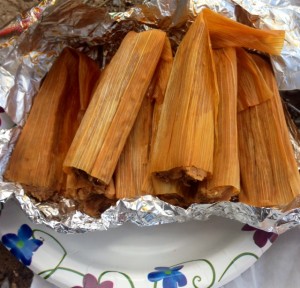 We got to see some of our old friends from last year like Chief Benny Martinez of the Brooks County Sheriffs Department and Constable Arturo Garcia. We were fortunate to meet some new people today as well. Flavio Garcia, a local businessman, brought shredded beef tamales for the entire team to enjoy on our lunch break at the cemetery. They were the most amazing tamales I think I've ever had!  (I won't tell you how many I had, but it might have been four…) Flavio was also gracious enough to supply six porta potties for us at the cemetery and cleaning services every three days.  This is an example of Falfurrias hospitality.  Everyone we meet is so gracious and so kind.
We were also able to spend some time speaking with Eddie and Irma of the South Texas Human Rights Center, a community based center dedicated to the promotion, protection, defense and exercise of human rights and dignity in South Texas. Their mission is to end death and suffering on the  Texas/Mexico border through community initiatives. Each day in Falfurrias we learn more about the many people and organizations dedicated to ending the preventable deaths on our border. We feel privileged to be a part of this mission, and while we are only one small piece we are proud that we are able to contribute in our own way to reuniting families separated by this crisis.
~KEL