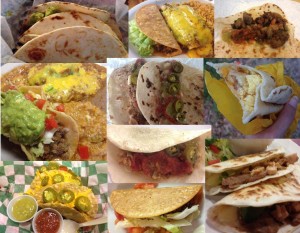 And now for a lighter post:  You may remember Erica mentioning the great taco challenge that the two if us would be undertaking while in Texas.  The challenge would only be complete if we ate something wrapped in a soft or fried tortilla at least once a day. Being a native Texan I was up for the challenge. Plus my favorite food is anything wrapped in a tortilla or piled on chips and smothered in hot sauce.  A few of my favorite taco meals are pictured in the montage above.
We had the opportunity to eat some amazing food while in Texas. Some of our favorites were the homemade meals prepared by Arturo and his family, the homemade menudo in large crock-pots arranged by the local Sheriff's Department and the fresh tamales brought to us by Flavio Garcia from a neighboring town.  Interspersed among these home cooked meals were a variety of tacos.  My first taco (brisket) was consumed during our first meal after arriving  in San Antonio and spawned the taco challenge. My last taco in Texas (chicken and bean) was part of our final meal at the San Antonio airport.
The most memorable meals came from the town of Falfurrias. Stricklands Restaurant provided a relaxed and comfortable western  feel with delicious meals.  While I stuck with items off their Mexican food menu, some of our other favorites included the fried catfish bites, brisket sandwich and chicken fried chicken.  Our other favorite place to eat was Star of Texas.  The owner was our server the first time we ate there and we had a great time talking to him and hearing his stories.  He could have just poured the salsa in a cup because we wanted to drink it and the carne guisada was absolutely amazing! So amazing that we made sure Star of Texas was our last dinner in Falfurrias. The other place we frequented quite often was, believe it or not, the gas station next to our hotel.  Inside the Valero Gas Station was a small counter selling items from the Laredo Taco Company.  Behind the counter the tortillas were rolled out and grilled to order. There was also a salsa bar that contained a variety of toppings. My favorite was the picadillo, but other favorites were the beef fajita or carnitas tacos.
While we worked hard in Falfurrias, our tummies were always full. Our meals were special times that we spent with each other or with the new friends we made while in Brooks County.
~KEL