Today was our first full day in Falfurrias.   Our first task was to give a lecture on forensic archeology to members from the Brooks County sheriff's department, the local constables, and the justices of the peace.  Our goal was to help inform the local authorities what exactly a forensic anthropologist does, what tools and methods we use, and how we can best help them do their work.
Dr. Latham kicked off the show.  She explained what exactly a forensic archeologist does, which is use classic archeological techniques and apply them to a forensic scene (seems kind of obvious when I phrase it redundantly, right?).  We work slowly and systematically in order to document the context of a scene and we use small tools so that no remains are damaged in the process.  By the end we have systematically removed every piece of evidence from a scene, leaving it looking like a blank canvas.  She continued by explaining that this is how WE approach a crime scene.  We usually have the benefit of taking all day to process a scene, whereas the officers we worked with today rarely even have an hour.  The work that we normally do on a forensic case just isn't feasible for these authorities given their time and resources… So how do we remedy that?
The answer isn't simple, but part of the answer is to simplify.  Our work is reliant on attention to detail and proper documentation.  We suggested a number of ways that the officers might streamline their efforts while maintaining as much context and collecting as much evidence as possible.  One suggestion was to photograph every piece of evidence using a scale and a north arrow.  Another suggestion was to take a GPS coordinate of the remains every time.  While most of these suggestions might seem very small, they are incredibly important and a powerful way to document the original context of a scene.  Perhaps most importantly she finished by asking them what works best for them, what problems they face, and what we can do to help.  This dialog was an integral part of this course because the local authorities know far more about the challenges they will face on a daily basis and what it will take to overcome them.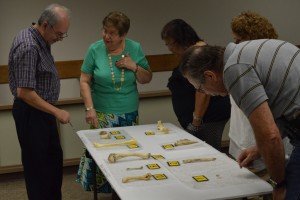 We all did part of the lecture today.  I discussed how to identify human bone and lead the bone quiz.  Ryan and Amanda discussed proper mapping techniques.  Hailey Duecker from the South Texas Human Rights Center also gave an amazing presentation on the best practices that the officers should follow in the field.  Every person did wonderful at doing their part, but that's the kicker… in the end every one of us plays a part.  Everything we do here in Texas is collaborative and we all rely on each other.  It is the cooperation that is truly astounding.