I have had the honor and pleasure of being a member of this project since the beginning. It has been one of the most amazing experiences of my life; both physically and emotionally exhausting, yet somehow indescribably rewarding. As one of the original actors in this performance, I thought I'd take a moment to bring everyone up-to-date.
Previously, in South Texas…
The project started with an invitation. Dr. Baker and the fine people of Baylor asked if we would like to help excavate Sacred Heart Burial Park in Falfurrias, Texas. Unidentified border crossers had been interred in the cemetery. Without proper skeletal analyses and DNA samples, there was no hope for these individuals to be repatriated to their families. The ultimate goal is identification so that loved ones can begin the processes of healing and closure.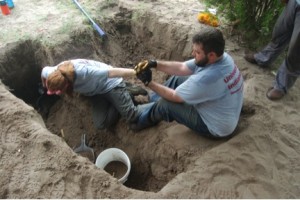 The first season of excavations felt like a fever dream. It was blisteringly hot, and proceeded at a dizzying pace. Our team operated autonomously, as a small team embedded in the framework of the larger project. This project was a summer course for the Baylor team. They were there to learn how to do field work, how to properly grid and document, and how to do forensic excavations. Eventually we were asked if we could help teach their students some of the tips and tricks we use while excavating, which we happily agreed to. Dr. Latham's philosophy is that life is full of "teachable moments". We travel to Texas to help in any way we can, and teaching has become one of our strongest contributions.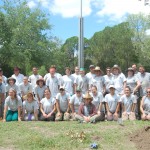 The second season of excavations started with us in a teaching role. The first few days were spent demonstrating proper excavation techniques to the new and eager Baylor students. It also gave us a chance to work with all of the students more closely. Instead of being a separate team from UIndy, we were now one big team trying to collectively meet our goal – repatriation. My words cannot do justice to the amazing people of Baylor. It was an honor to work with them.
The third and fourth field seasons focused on skeletal analyses at Texas State. Excavating the remains is only step 1, the next steps are to analyze the remains, identify the individual, then return them to their loved ones. This portion of our work does not make for the most exciting readings, but it the most critically important part of the process. These field seasons also found us contributing in different ways, such as creating and filling water stations, volunteering at the Sacred Heart Respite Center in McAllen, and collecting family data from loved ones at Missing in Harris County Day.
This year we will be excavating with a team from Texas State. I do not know exactly what this adventure will hold but I am excited to do my part. Cheers to another year of awesome people and amazing work!