We ended day 1 exhausted even though we didn't do any digging in the cemetery today. Since we were meeting at the airport at 6am, our days started very early. Getting 10 people (8 team members plus two family members – one of them an infant), 10 checked bags, one checked crib and one checked car seat through the American Airlines counter was no easy task. After that is was onto airport security and then a well needed cup of coffee. At this point we were all eagerly anticipating our first flight to DFW airport.
Once we arrived at DFW we learned our connecting flight was delayed an hour, so we decided to get an early lunch. After lunch we moved our group plus all our stuff (two carry on pieces per person plus a stroller down to our gate (C17). As soon as we got settled we were notified that our flight was delayed an hour longer and were moved to gate C7. After a two hour delay we were on our short 43 min flight to San Antonio. Then we held our breath at the luggage carousel hoping that each piece made it as well, and sighed a heavy sigh of relief when we lifted the last piece from the belt.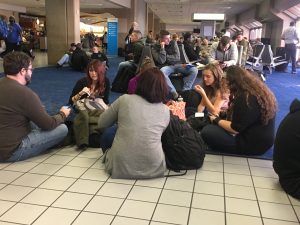 Our next hurdle involved getting the rental cars from Alamo. After a slight hiccup, the manager assisted us in getting our 3 vehicles (with the same price as the reservation). We shared the purpose of our trip with him and he wished us luck as we started as 2.5 hour drive south. We finally arrived at the hotel around 6:30pm. Exhausted and hungry we decided to get pizza and have a working dinner. The cultural anthropologists discussed proper participant observation technique and how to construct field notes. The forensic team discussed plans and potential complications for beginning exhumations the next day. We ended the day at HEB grocery store getting lunch items and supplies for the next day.
While not the most exciting day in the field, our new members learned patience and the ability to adapt are important characters for this type of work. We are all trying to be in bed by midnight to allow us a few solid hours of sleep before we meet at 6:30am for breakfast and the start of our next day.
~KEL