It has been two days since I have been home and talk about a temperature difference! Our first official day back and just in time for an ice storm. The temperature isn't the only thing that has changed, coming home to Indiana and it feels 'different'. I can't quite put my finger on it, things just don't feel the same anymore. My experience in South Texas was intense and incredible. The high points were working long, intense hours in the heat shoveling dirt and then coming back to the hotel for dinner and a quick dip in the hot tub. For some reason, those meals tasted AMAZING- I have no idea if the food was actually that good or I was so famished from working all day; either way, it tasted great. The Respite Center and visiting 'the wall' was also a high point- very insightful and I learned many life lessons. Some of the low points, was that we would not be doing this work if those individuals had not died. Bringing this whole experience full circle, it is incredibly heart breaking that these individuals have been waiting for so long for the opportunity to be identified. That no one attempted to do this sooner.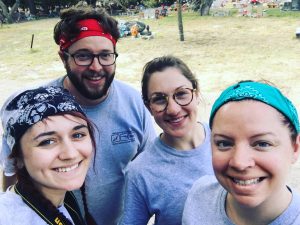 I loved how well our UIndy group worked and communicated together. And then to come back and share a hotel room for 10 days, with no arguments or issues? Simply amazing, I could not have asked for a better group.
The cultural anthropologists that were with us were equally amazing. The cultural anthropologists, which consisted of two undergrads (Sarah and Rachel) and one professor (Dr. O'Daniel), were very hardworking and always willing to lend a hand. I am certain that we would not have been able to accomplish as much as we did without them. They left two days before our group departed and it was quite noticeable how much they helped us. It was also very insightful to hear what they learned at the end of the day; they brought an interesting perspective to the group.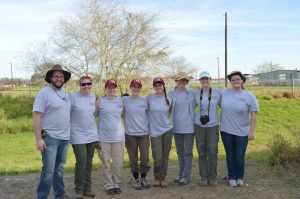 Our fearless leader, Dr. Latham, who guided us through this 10 day mission. Thank you for the opportunity to be apart of this, this experience has changed me as a person and has impacted my life in ways that I didn't expect. Texas State as well, thank you for being so inviting and welcoming- I was a complete stranger to everyone but I never once felt like a stranger. The night we were able to come to La Copa and have dinner with everyone, was lots of fun and a great night of relaxation that we all needed. Our last day, being able to finally work together was a great experience and I wish it could have happened more often. While in Texas, I also had the opportunity to meet Sister Pam. Sister Pam will hold a special place in my heart and I will always admire her strength and endurance. I can only hope we have the opportunity to meet again. Until next time, cheers.