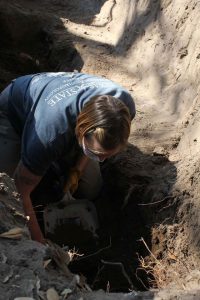 My name is Katharine and I received my master's degree in forensic anthropology from Texas State in 2007. I've done a variety of jobs in the forensic science field, including crime scene investigator, WWII Casualty Analyst for the Department of Defense's POW/MIA office, and currently, medicolegal death investigator. As a death investigator, I act as the eyes and ears for the forensic pathologist. I investigate all deaths in the state and determine if it falls under the jurisdiction of the medical examiner's office. I see homicides, suicides, accidents, drug overdoses, and many other scenes and situations. Skeletonized cases or cases where identification is questioned, I use my training in anthropology to help confirm the decedent's age, sex, ancestry, stature, and anything pathological or traumatic important to the case.
I volunteered for the exhumations at Sacred Heart for two different reasons. Primarily, the mission itself is very important to me. The idea of dying in anonymity seems utterly desperate, like tangible Limbo. Your family never knows what happened to you. They can't go visit your grave when they miss you. And they never see justice or closure. I believe that all people deserve to be treated with dignity and respect, living or dead, no matter what. Is that crazy?! My second reason for volunteering is less altruistic. I have my own unidentified population at my home office (30 cases since 1965) and I wanted to see how TX State and UIndy handled intake, processing, and curation of their case load. I also need to keep up my archaeology and mapping skills.
Working with death on a daily basis hardened me – in order to get through the tasks required of the job, I numb myself to the emotions surrounding each case. When I arrived in South Texas, as a death investigator, I was still hard and numb. But I emerged from this experience as an anthropologist again, who considers the cultural and emotional story alongside of the human remains, the trauma, and the potential identification. The total picture of this mission is crushing, humbling, immense, and exhausting. I am so thankful to have participated in the process of helping resolve one tiny, but crucial portion of the problem. The families of these people deserve it.