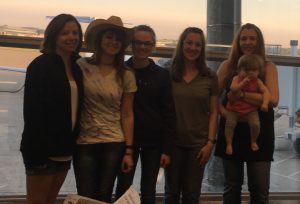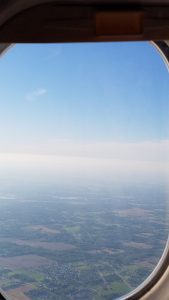 We arrived at the Indianapolis International Airport this morning at 6am for our 8:05am flight to the Dallas-Fort Worth Airport.  It was a much anticipated flight as I had been so eager and excited to travel to Texas for the first time.  The first leg of our journey was as smooth as is humanly possible, as we had no issues checking all seven of our bags, and no issues boarding all seven of us.  And as Leann so precisely put it, our landing was "literally as smooth as butter."  When we arrived at the DFW airport, we indulged in a delicious breakfast at Pappasito's Cantina!  Everybody really enjoyed the jalapeño cheddar sausage!  After a short layover, at the DFW airport, we departed for the San Antonio International Airport, where we picked up our (brand spankin' new) rental van.  It only had 15 miles on it!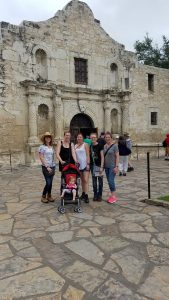 From the rental car company, we traveled to The Alamo to do some site seeing, and then we visited the River Walk.  It was my first time visiting both sites.  It was so interesting to learn about The Alamo and to see it! It is truly a beautiful piece of history, aside from the sadness the event ensued on Texas in the form of many deaths.  I really enjoyed seeing cacti and palm trees at The Alamo site!  I have never seen either in real life and I was completely enthralled by their beauty!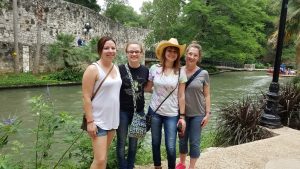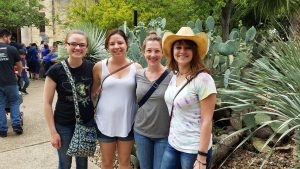 After walking the River Walk, which was gorgeous, we travelled to our hotel to get settled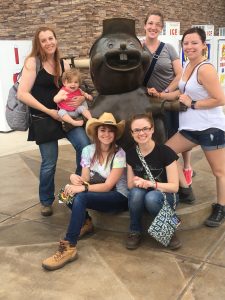 in for the night.  On our way to the hotel, we stopped at Buc-ee's, the biggest gas station I have ever seen in my entire life!  The place was massive!  It had everything you could ever want in a gas station, from every type of candy imaginable to decorations for your home.  We each got two kolaches, which were absolutely delicious!  And after seeing the amazing world of Buc-ee's, we had to get a picture with Buc-ee himself!
After we were through exploring Buc-ee's, we checked into our hotel and got settled in before visiting HEB.  What a cool store that is!  I have only heard about HEB but I have never been.  It was a really cool store that lived up to all of my expectations.  It truly is a store that sells everything!  I could not get over the cheese selection they had!  After HEB, we went to Sonic to get a quick bite to eat for dinner before settling in for the night to plan for our day tomorrow.
Today was such a fun day of exploring and site seeing!  It was a day of many firsts for me, and I am very much looking forward to tomorrow and the rest of our time here in Texas.