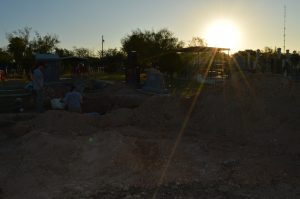 In the past three days, we have exhumed three individuals from Area 2. This means that we only have two more days to exhume the remaining two individuals buried in this area before we head back to Indiana on Saturday. With this being said, today's goal was to find and exhume at least one of the two remaining burials. While this may seem like a simple goal, we were racing against the sun. The forecast today was 97 degrees with zero clouds in the sky, meaning that in order to stay safe, we needed to work quickly and efficiently.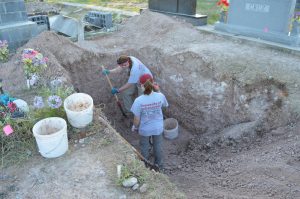 To accomplish our goals, we started by digging a trench from the Northern end of the pit towards the location of burials we removed yesterday. We decided to dig the trench down the middle of the pit to ensure we find the remaining burials if they exist there. Because the morning started out relatively cool, our rotations were 15 minutes long. After a few rotations, we found evidence of another burial so we began to investigate further. As the day drew on and the temperature continued to rise, we decreased our rotations to four minutes long. By lunch time, we had the burial completely exposed and ready to remove. After we removed the burial, we continued the trench Southward to look for the last remaining burial in Area 2.
We ended up leaving the cemetery at around 2pm. Even though today was shorter than our other days, we still worked really hard to meet our goal and find, uncover, and exhume another individual. We made the decision to leave at 2pm because it was getting too hot to safely work outside. Before we left, we strategized about finding and removing our last burial tomorrow morning over some ice-cold Cokes.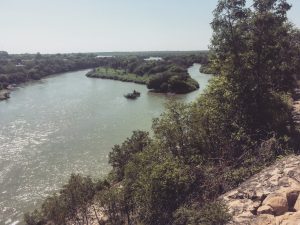 After we returned to the hotel and cleaned up a little, we traveled to Roma – a city West of Rio Grande City in Starr County. This city is located along the Rio Grande and has an amazing lookout deck with incredible views of the river and Ciudad Miguel Aleman, Mexico. While we were at the lookout, we met a very nice border patrol agent who talked with us about his job and about the river border in general. It was about 97 degrees while we were there, so we took some pictures but quickly returned to the car so as not to get anymore sun than we already had gotten today at the cemetery. After this visit, we went to the Mezquite Grill in RGC for dinner and the food definitely did not disappoint! We left full and very, very satisfied.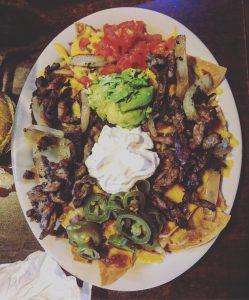 I am looking forward to what tomorrow holds for us. It is bittersweet because tomorrow is our last day at the Rio Grande Cemetery, however, we will leave feeling accomplished and extremely humbled if we are able to exhume all five individuals in our area so they can begin their identification process. As for now, we are all going to get a good night's sleep so we are well-rested and ready to take on our last day.