We have been back from Texas for three days now (as I write this).  For the most part, I have been catching up on sleep, unpacking, and getting ready for my final semester of graduate school to begin, but I have also been reflecting a lot on this last field season.  This field season was very different than previous trips  to Texas. We didn't visit the Respite Center and hear personal, harrowing stories about crossing and survival, and we didn't hear stories from local community members about how this crisis affects them, their community, and their daily lives.  In fact, our team didn't have any interaction with the local community in Willacy Co., aside from Joe and Luis the backhoe operators.  While these were the aspects of previous trips that I found most challenging, this trip was emotionally challenging in a new way.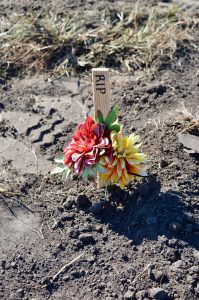 The emotional aspect of this journey really hit me on our last day in the field.  Texas State had taken the time to clean up around each of the grave markers, trimming the grass and removing debris from the surface.  Both teams then sifted through a debris and backfill pile and found numerous fabric flowers no longer associated with any graves.  We decided that we would repurpose these flowers to adorn each of the graves in the cemetery.  I took the lead on this project, creating bouquets and securely fastening the flowers to every grave marker and headstone.  Along the way, I took the time to read each marker. They ranged from infants to the elderly.  When placing the flowers, I couldn't help but wonder about their life story.  Who they were, what their life was like, and who they left behind.  I thought about the individuals we exhumed who didn't have names.  I thought about what their lives were like, and what their loved ones must be going through not knowing what happened to them.  This was extremely saddening to me, but it also filled me with hope.  Hope that through our efforts, we would be able to put names to the numbers.  Hope that we will one day be able to return these individuals to their loved ones.  Hope that we can change the circumstances for future migrants so that they are not buried without a name.  To me, placing these flowers and making the cemetery beautiful again perfectly symbolized the incredible impact that this large-scale identification initiative is making on the lives of countless individuals and families who are missing loved ones.
The UIndy Human Biology graduate program cohort sizes have been increasing over the past few years, meaning that there are more students interested in becoming involved in this humanitarian experience than ever before.   Because I am graduating in May and the number of interested students has greatly increased, this could have been my last trip to Texas.   While the thought of this being my last trip makes me sad, I can't help but be so incredibly grateful for having these three opportunities to be involved in such an amazing cause.  Over my past three trips, I have learned so much about myself, my view of the world has completely changed, and I have become a passionate humanitarian.  I have worked harder than I have ever worked in my life, and I have met so many incredible, dedicated, and selfless people along the way.  I will cherish these opportunities and all of the memories I have made during my times in the borderlands.  Texas, I hope to see you again soon, and thanks for everything.