I am terrified of snakes and scorpions. And spiders for that matter. In fact, I am terrified of most insects and reptiles.  I remember watching the movie "Holes" when I was little and vowing to never travel anywhere that has scorpions. Dr. Latham sent the Beyond Borders team an email a few weeks ago with a link to "leg protection" for the field. I clicked on the link and it took me to a website to buy snake guards. I naively thought that we were just purchasing leg protection to protect against ticks and the harsh shrubbery of the Texas ranchlands. When I read the description for the leg protection, it mentioned that they would protect against rattlesnake bites. That's when I became slightly worried. When I saw Dr. Latham in the hallway a few hours later, I asked her if there are rattlesnakes in Texas. Yes. And then she mentioned that the leg protection would also be to protect against scorpions. I momentarily panicked as my fears of both rattlesnakes and scorpions surfaced.
This trip to South Texas is so much greater than my fears of rattlesnakes and scorpions though. There are many things that I am afraid of. I have no trouble admitting that. But one of my greatest fears is never seeing my family again. They are, in part, what defines me. They have seen me through good times and bad. They are always there for me whenever I need them. I cannot imagine the fear and horror that would go through me if one of them disappeared. I am so excited to take part in building 10 water stations for migrants who put their lives at risk to cross through Texas and make a better life for their families. I am also excited to take part in foot searches for missing migrants.
In May of 2017, I had the incredible opportunity to travel to Rio Grande City, Texas with the Beyond Borders team to recover the remains of migrants in the county cemetery. It was an amazing experience and I learned so much about myself, my team, the migrant crisis occurring in South Texas, and South Texas in general. It was an experience that I will never forget.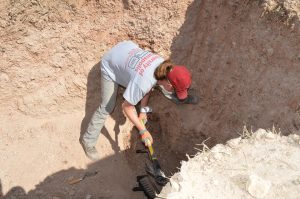 Mattocking- Starr County 2017
I am so excited to have the opportunity to travel to Brooks County, Texas this May to take part in this humanitarian mission once again. I think it will be a totally new experience because it is a different county and a different reason for going on this trip than the one I went on in May of 2017. I am excited to see and experience the county where Beyond Borders began their work in May, 2013. I think it will be an incredible experience but also a heart wrenching one. I think it will help me overcome some of my fears and will truly change me as an individual.
In the Human Biology graduate program at UIndy, we carry the motto "Expect the unexpected." We go into each case with a little bit of information and a tiny bit of a plan that is almost always adapted once we arrive on scene. Going into this trip, I feel like I have a general idea of what to expect: hot, humid (+10000%). I know what Texas looks like and feels like. I know what I need to pack and what I don't need to pack. And I know that when I return home, I will be exhausted but bursting at the seams with sadness, empathy, a feeling of accomplishment, and happiness. Happiness because I get to take part in this incredible mission. However, I also know that I need to expect the unexpected because while we are going to Texas with a plan, we may be faced with obstacles along the way.