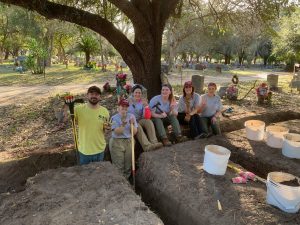 Day 4 is in the books. After moving to a second site and hacking our way through what felt like a MILLION tree roots, we feel just as motivated as day one. We have almost cleared our second site after today with only a little bit of trenching to go.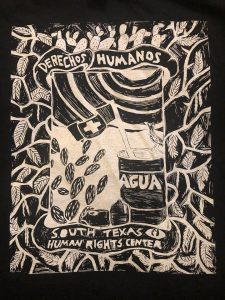 I had two pretty unique experiences today which I would like to share with you. While we were digging away at our site, Ryan introduced us to two young ladies who work for the South Texas Human Rights Center (STHRC). We said hello and asked about what they did and they began to tell us a side to the human rights work that we are not exposed to as scientists. These ladies are responsible for manning the Missing Migrant Hotline. Families can call this hotline to report their loved ones as missing and give any information that may be helpful for the STHRC. This includes what clothes they were wearing, what personal effects they may have had, if they have dental records available, where they may have crossed the border, who they were with, etc. The STHRC then cross references this with any information on individuals that the county may have found deceased, to aim to make identifications of unknown persons and return their remains to their families. They spoke of a few other organizations in Texas and Arizona which map migrant trails, fill water stations, and provide medical attention for people in need. There are many obstacles they face with Border Patrol, rough terrain, and funding, yet these people are mostly volunteers assisting out of the kindness of their hearts. I was very impassioned to hear the ladies talk with such dedication about what they are doing. It was very inspiring and motivated us more in our work the second part of the day.
Later in the day a car drove up to us, which has been a regular occurrence. People usually ask what we are doing or if we have found anything – as it is a very small community and word has spread fast about our project. But this time a man said that the woman next to him (his wife) wanted to tell us something. So Angela and I went up to the car, and the woman said that her father was buried in the cemetery a few years ago. She said that she had tried to buy the plot of land next to him to be buried in when she passes, but the funeral home had told her that there were "unidentifieds" buried there and she could not buy it. I asked her if she could show me which plot she was talking about, so her husband parked the car
, and they led me over to her father's grave. There was a patch of grass between his grave and another family plot just adjacent where she said that they had buried two "unidentifieds". She said that her husband did not want her to tell us about it – as many people would rather just keep to themselves. She was wearing scrubs and I imagined her being taken to the cemetery by her husband on her lunch break, driving around and deciding whether or not to inform us with what they knew. I thanked her greatly for coming to us with the information. As I looked down the row next to her father, I could see that many members of her family were buried alongside him. I knew that being buried with her family meant a lot to her and if we exhumed anyone from the land next to him, hopefully she could acquire the land to be buried in. I told Dr. Latham about what the woman said, and a group from Texas State began surveying and excavating the area. We have had a lot of tips on where people may or may not be buried, but a lot of them are conflicting. There was no reliable GPR reading from that area of land, and apparently Texas State were just deciding whether to excavate the area or to move onto another with a more promising GPR reading, when the new information came forward. Sure enough, two unidentified remains were uncovered.
Although the UIndy team has not uncovered any remains yet, I felt satisfied to have played a role in that discovery. I hope that the woman who had the courage to inform us of the unidentified individuals buried there, can be laid to rest next to her family. That was a result of our excavations that I had not yet considered. When we clear an area, that plot then becomes available again for local burials. It is reuniting people with their loved ones – not just through the process of repatriation, but also in situations like this one. A father and daughter can hopefully now be reunited in this cemetery one day.
Thank you for following along with my very lengthy stream of consciousness tonight. Today was a good day. See you again tomorrow!