It's almost impossible for me to believe that we left Falfurrias 113 days ago (as I write this).
The past 113 days have been filled to the brim with classes, assistantships, conferences, case work, regular work, and more. With everything that has been going on, I've barely had time to eat, let alone process our January trip.
And with the whirlwind that has been these past 113 days, I definitely haven't been able to fully prepare for our trip next week.
---
In January, we spent a majority of our time at Sacred Heart Cemetery.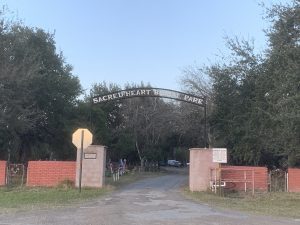 While the work there was exhausting both physically and mentally, it also represented a safe space. We knew where we were. We had phone signal, a water cooler, and a bathroom.  This trip is going to be really different. Instead of focusing on forensic archaeology, we will be focusing on search and recoveries at local ranches (like we did for a short time on day 7) and filling water stations with the South Texas Human Rights Center (like we did on day 9).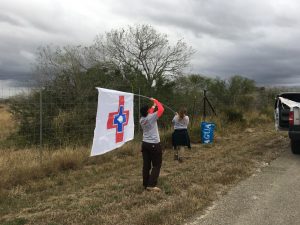 While our January trip gave us a glimpse of what is to come next week, I don't think I am fully prepared for what lies ahead. While Dr. Latham and Angela have talked to our team about the hardships we will face during this trip, there is no way to truly prepare. There is no way to prepare for the climate (political or the environment), the sporadic nature of our trips, and the physical work involved.
Though I have been in the sociopolitical climate of Falfurrias before, every day requires navigation through multiple entities, all of which are holding different views of the migrant crisis. Even here in Indiana, it is often apparent that some feel negatively about the topic of immigration. I have to continually remind myself that we are doing this to be advocates for the decedents, not to take any particular political stance, and this is what keep me motivated.
I have a hard time not having a set plan. This is something that challenged me in January, and I am sure will challenge me even more this trip. We are forced to adapt to whatever is happening that day, and what those who are on the ground every day need from us. Learning to go with the flow is hard, especially as a type A personality. But understanding that the work being done is more important than how we feel as individuals makes it much easier.
The environment and the physical work involved is going to be the hardest part of this trip by far. We are going in May, which is much different (i.e. hotter) than going in January. Again, we will be searching for part of the trip, and while this may seem easier than digging, I know it's going to be much, much more exhausting.
The nine days we spent in Texas in January were some of the hardest of my life, I cannot wait to go back and do it all over again.