We, again, started the day off with breakfast in the morning and then met Arianna and Selina at the South Texas Human Rights Center. Our plan for the day was to continue filling water stations along the route that we had started on day one. We headed out for the day knowing, for the most part, what it would consist of. We drove through a checkpoint and Deputy White informed Border Patrol that we were filling water stations, in hopes that we would not be suspected of human smuggling again. As we arrived at the first water station, we all stepped out of the vehicles and prepared to reinforce and refill the station. Over the past two days, refilling water stations had become systematic. We assessed the water station to see how many bottles of water needed replaced, if the barrel needed to be changed out, or if the barrel needed to be clamped to the nearby metal stake.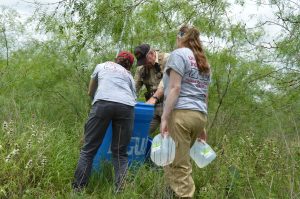 We continued along the route for about an hour and a half before reaching the restaurant we had planned to eat lunch at. For lunch, we enjoyed beautifully prepared mexican style dishes. Some of which consisted of fresh vegetables and homemade flour tortillas. During lunch, we encountered the Texas Highway Patrol once again. Luckily, encountering them this time was a pleasant experience. Although, when we headed out to the next water station after lunch it looked like we were going to be pulled over once again. Arianna quickly put on her four-way lights to signal we were pulling over and that seemed to deter the patrol officer from stopping us.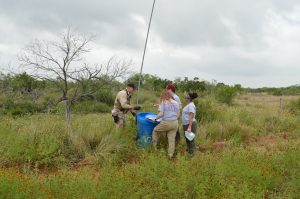 By two in the afternoon, the original route was completed. There was still more water to distribute so we went down a different route and refilled more stations. Down this road, we found barrels plastered with political statements as well as barrels that had been replenished with water from someone not associated with the South Texas Human Rights Center. These barrels expressed two very different sides of the community in Falfurrias and the surrounding area. It was reassuring to see that someone else in the community was actively assisting in similar efforts as those of the South Texas Human Rights Center. Also, down this road a pair of jeans hung on one of the ranch fences. They were a strong reminder of the presence of the undocumented border crossers within the brush. From here, we headed back to the South Texas Human Right's Center. Everyone joined in an effort to unload the vehicles, then we discussed the plans for the next day's searches.