This morning we began our day as usual with hotel breakfast and raspberry emergen-c. But, although our start was the same, the rest of the day would be completely different than the previous days. Today was our first day of search and recovery operations.
At 7:45am we left the hotel and headed towards the South Texas Human Rights Center where we met up with Deputy Don White, Arianna, Selina, and few new additions to the usual that included Eddie Canales, a few students from Texas State University and a couple of media reporters. It was such a pleasure getting to meet Eddie for the first time knowing how dedicated he is to providing humanitarian aid along the border. He's truly an inspiration.
After a quick pow-wow on the day's plan of search and recovery , safety precautions and waiver signing, we all headed out in our vehicles to the ranch. Lucky for us, the weather was quite overcast and hadn't yet reached 90 degrees. Once everyone was parked, gaiters on and bug-spray sprayed, we were off. While it took a few moments of strategizing, we all lined up side by side 5-10 feet away from each other — some with GPS trackers in pocket — and began the search.
The ground was soft and sandy, sticker burrs plagued the way and grasshoppers jumped frequently with every foot that hit the ground. Some parts of the landscape were flat and other parts were full of thorned trees with spiders hanging from their branches. We searched for 3 hours (it honestly felt a lot longer).
During our search we encountered a lot of personal effects left behind by individuals following paths across the border; these included plastic water bottles, aluminum cans, clothes, purses, etc. This was really eye opening. It was a rough terrain and the weather was not forgiving, but we all knew that we would return to our own vehicles and, at the end of the night, sleep in air conditioned rooms in our own beds at night. This is not true of individuals such as those that left their clothes and water bottles behind.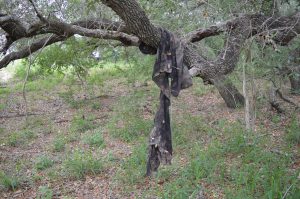 After our relatively short time searching, we stopped for a snack, jumped in the back of Eddie's truck and rode towards our parked vehicles where we started. From there, we returned back to the South Texas Human Rights Center to have a lunch of sandwiches, pickles and grapes and allow everyone some time to check themselves and each other for ticks. Luckily, the Beyond Borders team was tick free, for today at least! The same cannot be said for some of the others in our group. Finally, Dr. Latham, Eddie and Deputy Don had a conversation on tomorrow's plans and we all headed out for the day.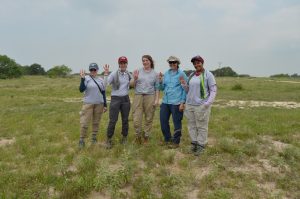 Because we finished our search fairly early today, we had some time to spare. After jumping in the hotel pool for a quick cool down and taking a shower to wash off the debris of the day, we decided to head out to McAllen. There, we got to see a glimpse of "the wall", and it was…interesting. Border patrol was already set up in their truck when we got there and told us to not get too close to the wall, so we only stayed long enough to take some picture of the wall and destroyed ladders along its periphery.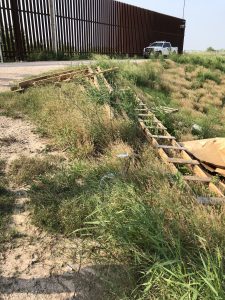 Lastly, and possibly my favorite part of the day, we went to Delia's for dinner and I do not exaggerate when I say that I got to eat the best tamales I've ever had! I can say with confidence that we all greatly enjoyed that meal after what felt like a really long day and here's the proof: