Besides working in the field, last summer's Texas trip provided our team many opportunities to get to know the community of Falfurrias.  The community was so welcoming to our team and I am excited to return to Fal this summer to reconnect with all of them.
One such community member was Arturo "Art" Garcia; he is one of the four Brooks County Constables and would visit us at the scene everyday to see how everything was going and if he could help.  He was such a sweet man and was kind enough to invite all of us hungry students into his home for an authentic Mexican home-cooked meal.  Hearing his family's story of how his mother migrated into the United States brought the entire story into perspective for me. Art and his brother Ovivio work in Brooks County and I look forward to catching up with them again this year.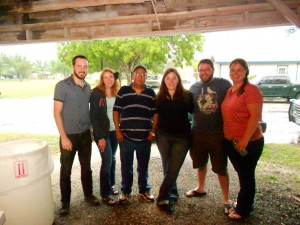 We were also able to sit in on the Brooks County Border Patrol meeting discussing the stations updates for the past quarter.  There we were able to interact with not only the Border Patrol officers but also the local ranchers.  It was amazing to hear the many rescue stories led by the Border Patrol and to see a sort of behind-the-scenes look at the challenges the county is facing on immigration issues.
One of my many favorite nights in Falfurrias was when we were invited to the Lasater Ranch.  When it was founded it was one of the largest ranches in Texas, consisting of around 350,000 acres of land.  The town of Falfurrias was named from this founding ranch called La Mota de Falfurrias.  The Lasater's invited all of us back to the ranch for a home cooked meal and a relaxing evening.  We got to see their beautiful property and resident peacocks and flock of turkeys.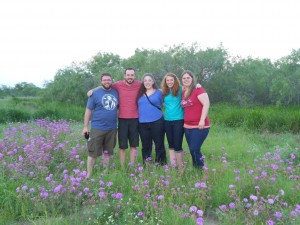 The fields surrounding their home were full of beautiful purple Heart's Delight flowers, which are only found in Southern Texas. It was such an honor to be invited into their home, another example of the gracious attitude seen in the people of Falfurrias.
As far as being in the field, our days would not have been the same without Chief Deputy Urbino "Benny" Martínez and Lionel Muñoz.  They work for the Brooks County Sheriff department and would visit the cemetery everyday to check on our daily progress and to see if we needed anything.  Lionel even volunteered his trailer to post at the scene for an additional bathroom and a nice cool place to organize paperwork or simply for a quick chill off during a long hot day of digging.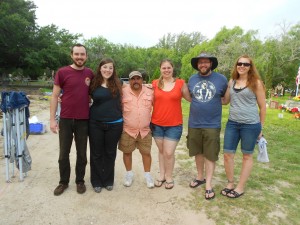 Last, but certainly not least, was our adopted field cat, Sunny.  She was a local to the hotel we were staying at and was quickly named and fed by many.  Our crew named her Sunny and one of the other students would give her cat treats everyday when we would return from the field.
The community of Falfurrias was beyond generous during our time there; it made the field season somewhat like a second home, and I am more than a little excited to return for another field season.