Upon arrival to our downtown San Antonio hotel, we quickly checked in and needed to make a very important decision…What should we eat? After early flights out of Indy we all had gotten quite hungry –and having hungry graduate students is never good.  We decided to take the advice of one of the hotel's employees and quickly made our way to Moses Rose's Hideout.  They are known for their in-house smoked brisket, fresh burgers, and live music.  When we walked up to the restaurant we were greeted by a curious fellow who led us into the restaurants foyer, which appeared to dead end.  He then informed us that everyone must perform a trick in order to gain entrance into the restaurant or face a heavy cover charge.  He suggested jumping on one foot, hula-hooping, or rubbing your belly while patting your head.
We all took our turns, not all that concerned about being embarrassed in front of each other – it's definitely not the first time that has happened.  He then pressed a button on the wall which opened the secret door to the hideout.  As we walked through the saloon doors we were greeted by the other patrons with rounds of applause and soon realized that there was a live video feed into the restaurant of our less than stellar moves.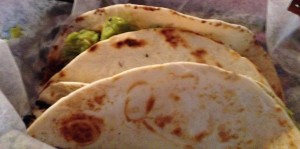 However the air in the room was full of smoke from the smoking briskets and the amazing smells and thoughts of food quickly replaced our minor embarrassments.  All of us knew brisket had to be the food of choice.  Jessica and Cheneta went for brisket topped burgers, Justin got a brisket sandwich, and Dr. Latham, Ryan, and I went for the brisket tacos topped with pico de gallo and guacamole, they were fantastic! And so began Dr. Latham and my taco challenge! We are going to eat some sort of taco (defined as anything wrapped in a tortilla) at least once a day.
So stay tuned for future food and exploring posts as we make our way south to Falfurrias!