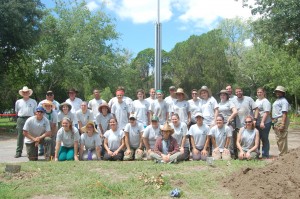 This field season we were very fortunate to be able to have specialized positions that allow us to interact with the Baylor students in a very different way.  The Baylor students are divided into 5 different teams and each team was assigned to their own quadrant (a 4 meter by 4 meter area of the cemetery).  We have had more of an instructor role this season and have been responsible for explaining and showing how to use certain archeological techniques to best utilize the equipment and document what each team is uncovering. I have been amazed by how well the teams are doing,  these students are incredibly inquisitive and enthusiastic and continue to work hard in this hot Texas sun.  Just a few days into this season and it is evident how much the students have learned and still want to learn.  It has been great to see the teams work together to brainstorm strategy and support each other and the other teams. The teams quickly learned that the quadrant distinctions are being blurred as the burials cross the set grid lines.  However the teams were able to quickly adapt and are doing an excellent job working together to coordinate people, equipment, and documentation.
Going into this field season we knew that this section was going to be more challenging and it has already proven to be different from last year's section as far as soil density, burial depths, and burial types.  We would not be able to complete this excavation alone, this is a large site that we would not be able to tackle without all of the help from Baylor University.  They provide so much support in the field and they truly make this project possible.
The more we become invested in this human rights issue, the more we are seeing the many different organizations, universities, and individuals that need to work together to solve this daunting issue.  I am honored to work with Baylor University and I look forward to seeing the students further progression throughout the next week in the field.