Today was hot and challenging.  We say this every day.  Yet, after 3 straight days of the South Texas sun, today we needed a motivator.  It came at the end of the day.  Freelance writer Ananda Rose, who has been visiting for a couple days, invited a few of us to join her on a ranch visit.  We were hosted by security manager Lavoyger Durham on the El Tule Ranch, just west of Falfurrias city limits.
The 13,000 acre ranch land sees a lot of traffic.  El Tule runs right up to Highway 285, which runs East-West.  Lavoyger informed us that the migrants crossing the ranch are headed directly to the highway to catch a ride for the next leg of their trip.  The ones in Falfurrias, he said, head mostly to Houston and disperse from there.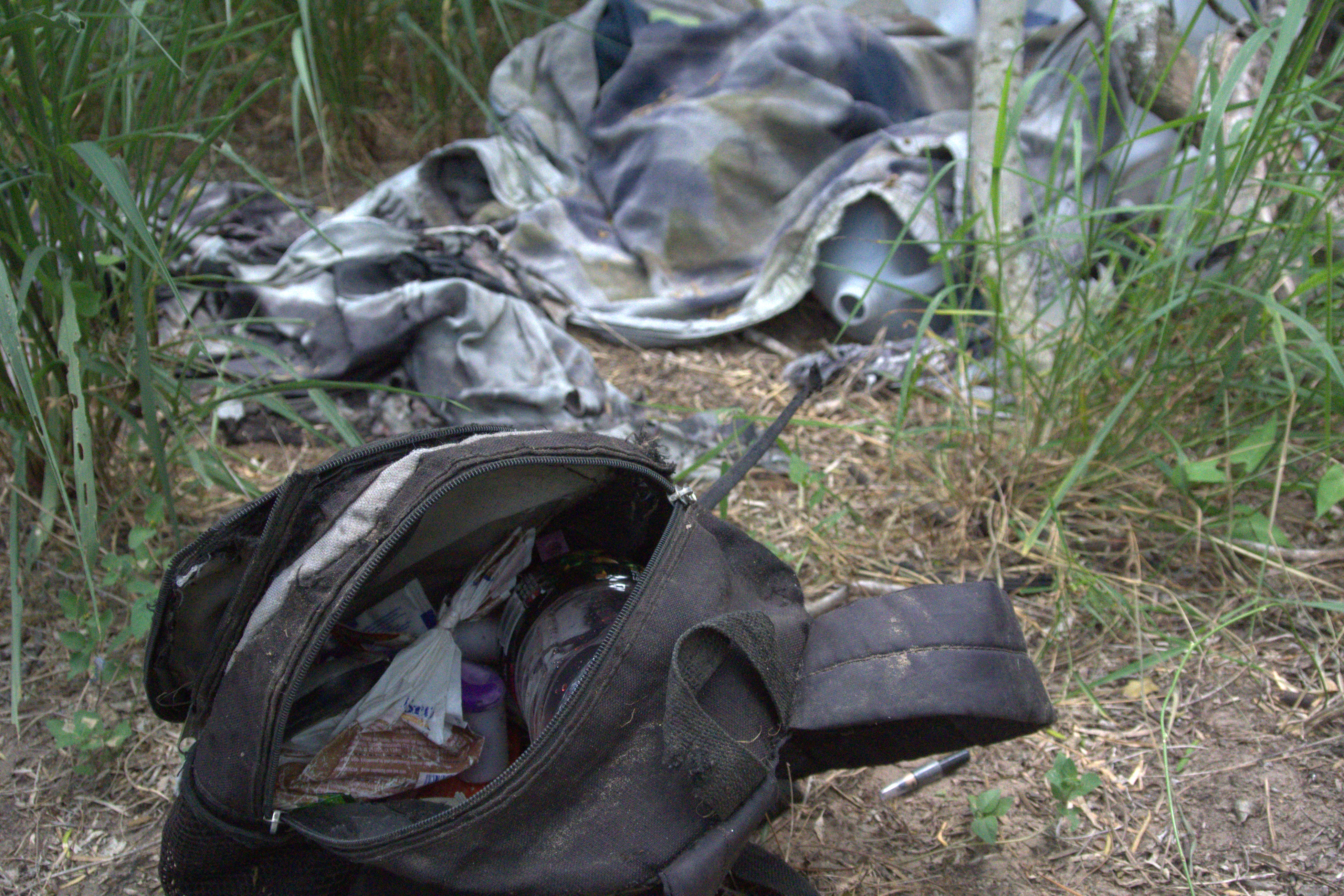 Lavoyger was also able to show us several places close to the highway that offered some sort of shelter from the sun, but the trade-off was thorny branches and mesquite so thick we could barely see each other 20 feet away.  The area was littered with backpacks, hats, blankets, jackets, and empty gallon water jugs.  It was disheartening and drove home some of what these migrants faced.
The land we were comfortable driving across was beautiful, but it was deceiving.  There were black-eyed and lazy daisies spotting the landscape, and birds soaring around.  Grass spurs, little sharp burrs that stick to and puncture all manner of clothing and skin, were unavoidable.  The sand was so deep, it was difficult to drive through let alone walk through.  And very little shade was offered by small patches of short trees and bushes that could protect one or two people.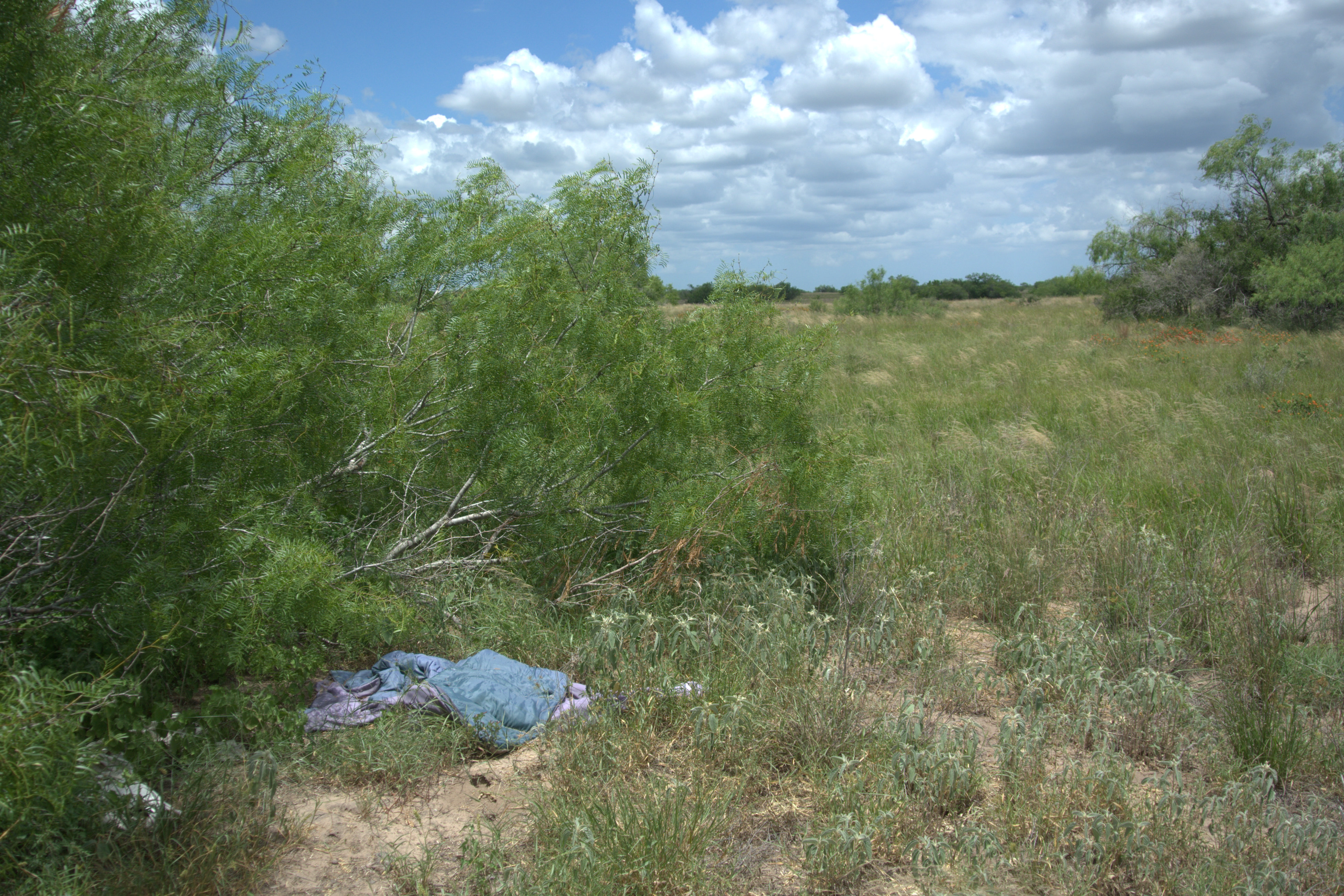 On top of the terrain and environment, we went in the early afternoon when the Texas sun was at its best and we were eager for some shade and air conditioning every time we stopped the vehicle to inspect various sites.  I can't imagine walking in this draining heat.  I wouldn't make it very far at all.
Next, we stopped at a handmade cross Lavoyger had put up to mark the place a migrant had died some time ago.  It was simple, merely two sticks tied together.  But it was a reminder of the value of human life.  While he was recounting the controversies surrounding migrants, he was adamant that that we are all human and the priority was always human life and preventing deaths.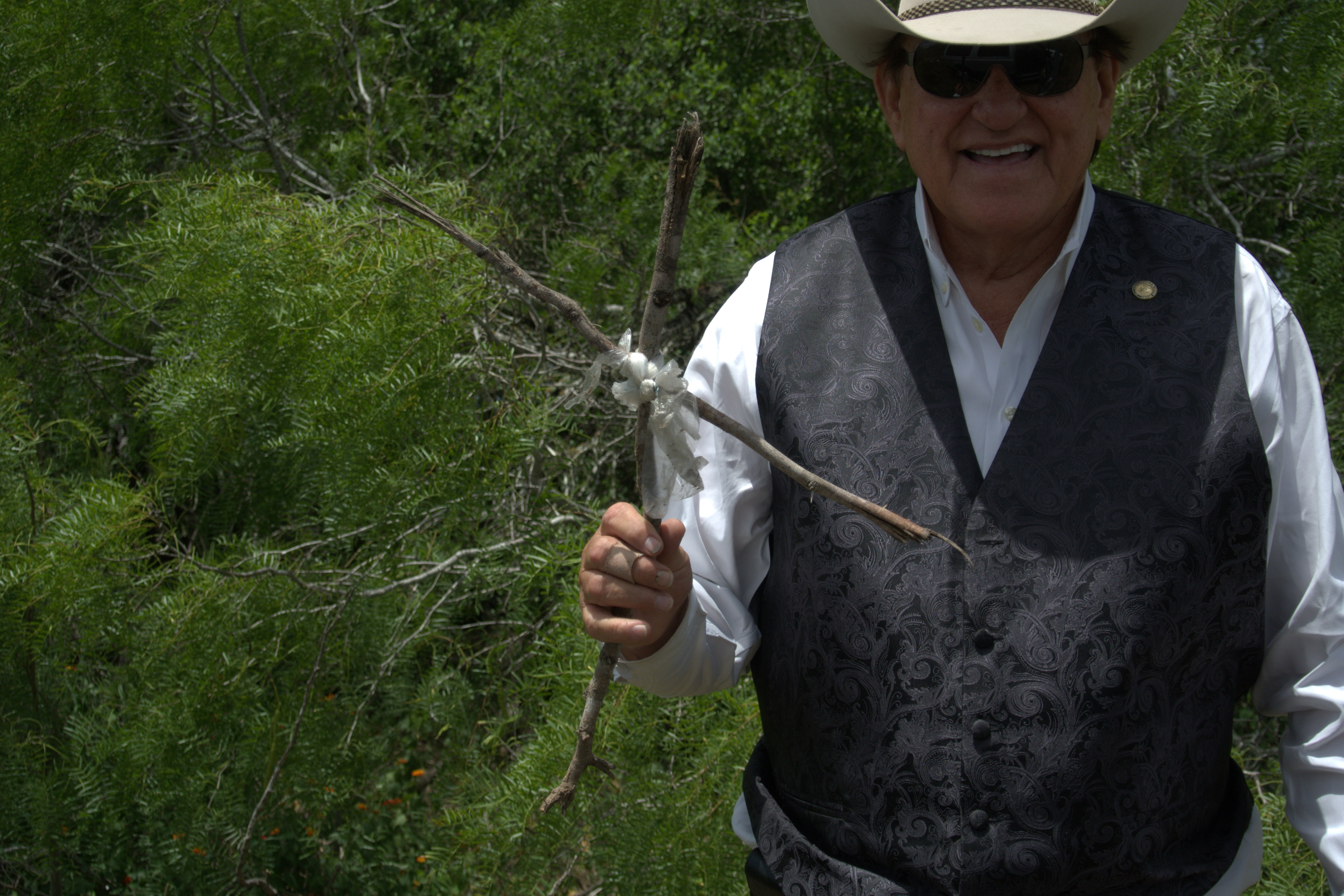 We also stopped at a water station Lavoyger had set up that was very simple.  A waving flag jutted into the sky above the trees to mark its location.  The station consisted of a 55-gallon bright blue drum with a cap on it and labeled "agua" was filled with 5 gallon water jugs purchased from the local store.  He said a couple had been taken out, but he checks it regularly to make sure there is always water available.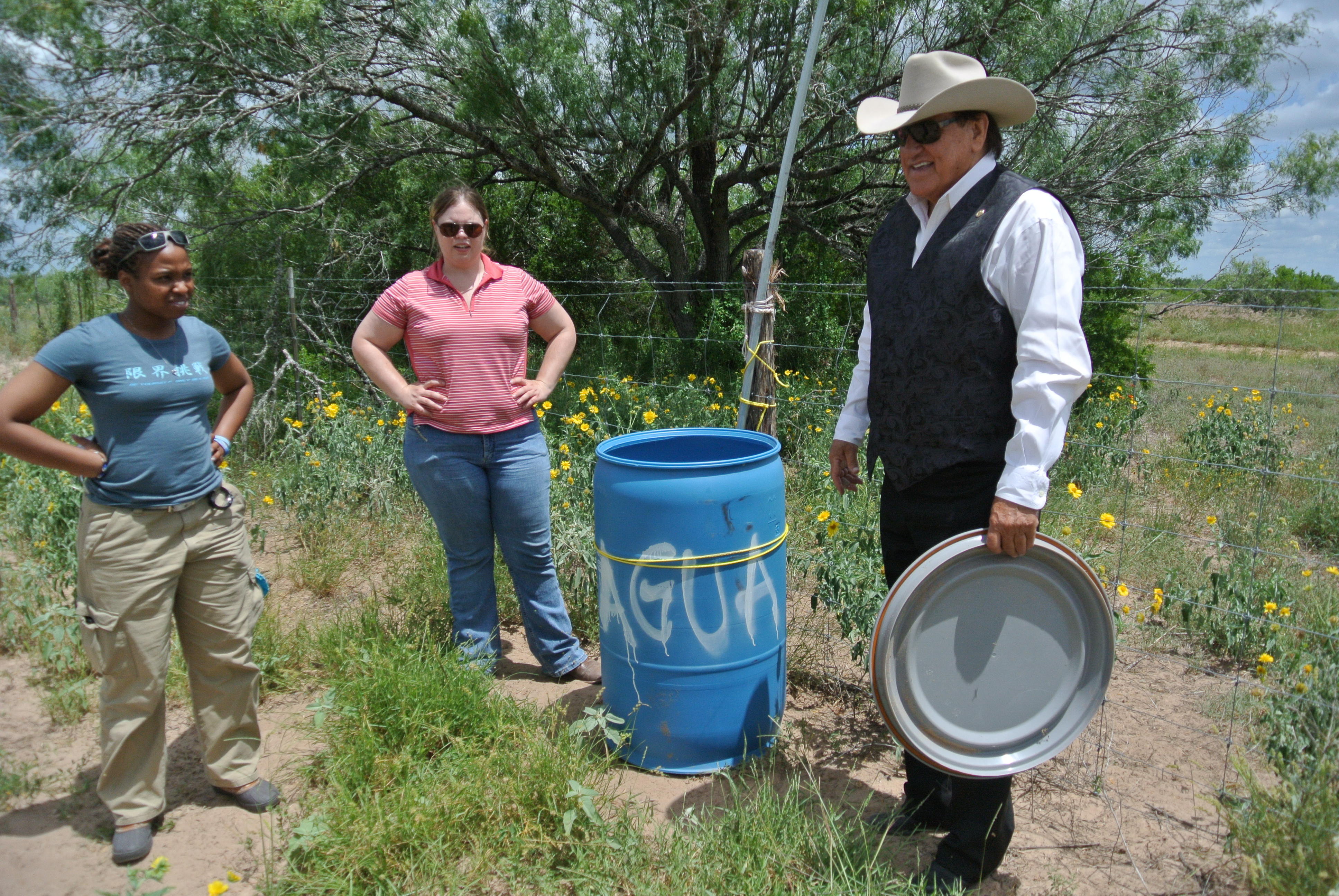 We continued to drive around the ranch, and after a short time everything looked the same.  We knew where the highway was when we could see it, but after a few turns could not point it out.  The two-lane sand roads merged and crisscrossed so I couldn't answer if asked if we traveled the same one twice.  Without a GPS, or a knowledgeable guide, it would be extremely difficult to not walk in circles.
Lavoyger also told us a few stories of people he had come across on El Tule. He told us of the individuals he has spoken to (he's bilingual). He has been told that migrants traveling alone are rare and do so for two main reasons: people who get left behind intentionally because they are too slow, due to heat exhaustion, injuries, age, or any other factor, and the people who escape a Border Patrol raid and wind up lost and alone (whether the only one to escape or simply unable to find the group again).
Overall, the trip to the ranch was a mix of sobering realities. It was good to step out of the cemetery for an afternoon and see this crisis from yet another viewpoint.  We normally gather information from talking to various people involved in various aspects.  This trip allowed us to see it from yet another perspective, and being scratched by sharp thorns and pulling off countless grass spurs (while uncomfortable) is only a portion of what these migrants go through, all for a better life for themselves and their families left behind.