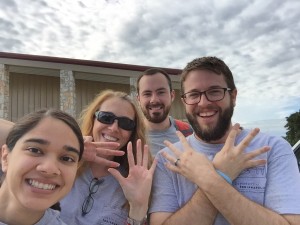 Since we've gotten to San Marcos, all it's done is rain. Today was no different. It was pouring buckets of rain this afternoon, thanks to Tropical Storm Bill.  There are flash flood warnings for this area in effect till the end of the week and tornado warnings in effect for today. This is unusual weather for this part of Texas and I've had many Texans tell me that this weather is nothing like the real Texas weather. San Marcos is supposed to be sunny.
Day 8 was spent doing skeletal analyses, while worrying about the laboratory flooding or the roads leading up to the laboratory flooding and trapping us there. Our emergency plan was to bring our work with us to another Texas State University building, so that we could keep working on identifications no matter what.  A little rain isn't going to stop the UIndy Team. Thankfully, we did not have to use our emergency plan today and we hope that we won't have to use it at all.
None of us have wanted to venture outside in the rain, so we opted to stay in for the night. We've been amusing ourselves by playing around with some of the videos we've made since we got to San Marcos. Here are two of our best ones. Enjoy!