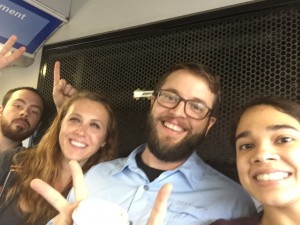 Today we head back to Indiana.  We woke up early and packed up our hotel rooms. Checking and double checking every corner to make sure we didn't forget anything, and moving items from suitcase to suitcase making sure everything fit and was under the weight maximum for the airline.  There was one last stop we needed to make before heading to the airport: Whataburger.  Amanda said this Texas classic was on her list of places to dine while in the Lone Star State, so we picked up a few taquitos and honey butter chicken biscuits for the road.  Then we waved good bye to San Marcos and headed towards the airport.  This is the first year we didn't have to stop and clean out the rental before returning it. Previous years our rental transported us muddy, sweaty and stinky as we conducted archeological exhumations.  This year the rental was spared the usual Febreeze bath before being returned.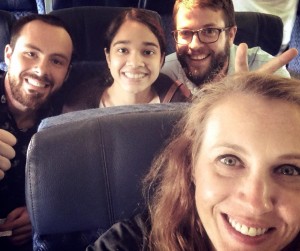 When we got to the airport we huddled in a corner at our gate and discussed the tasks we need to complete in the upcoming few weeks.  Our work is far from over.  We have documents we need to make and submit to the appropriate agencies.  We have databases to update, emails to send and reflections to make.  Amanda and Justin will be taking over the NamUs database duties of our cases as Ryan transitions to his fellowship at the South Texas Human Rights Center.  He is already dedicating a lot of time to reviewing documents, databases, spreadsheets and other tasks that will better prepare him for his upcoming job.  Most of us slept on the flight home, thoroughly exhausted from our two weeks in Texas.  Since we were working all day, everyday we didn't have much time to just stop and think about what we were doing and how this experience has impacted us.  Those reflections will begin to pour into our minds slowly over the next few days and weeks.
Just because we are home doesn't mean the blog is over for the year.  We plan on submitting several more entries over the next week or so.  Please continue to check back daily for new entries!  Thank you to all of you that have followed us so far.  We appreciate your support and the awareness you are bringing to this humanitarian crisis.
~KEL