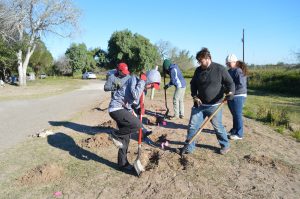 Apparently when we arrived in Texas, we also brought the weather from Indiana with us. Today we were back in the field and although we started later (9am), it was still 28 degrees with a windchill that made it feel 19 degrees. Always prepared for changing weather conditions, our group packed on the layers and headed out to the cemetery.
Upon arriving at the cemetery, we unpacked our gear and went to two new areas to map. Prior to leaving on Thursday, the cemetery grounds keeper pointed out two more areas that had unidentified migrants buried. One area did have two markers that stated 'unidentified' while the other area was void of markers due to them being damaged previously. After mapping the areas, Texas State arrived, split into two groups and started excavating the two areas. Our group, went back to our original section and dug two trench pits on either side of the previously excavated burials. Both trench pits did not reveal any anomalies and were back filled. After finishing that area, we relocated to the section where UIndy and Baylor University had excavated in a previous field season.
The previous field season took place in 2013 and sometime between now and then, another unidentified migrant was buried in the same area. Our group focused our efforts on excavating this burial, which  has already turned out to be quite different than the first three and we have not even finished the excavation. The soil is more dense than the other site (the other site consisted of mostly sand) so our walls are not collapsing as easily as they did compared to the first site.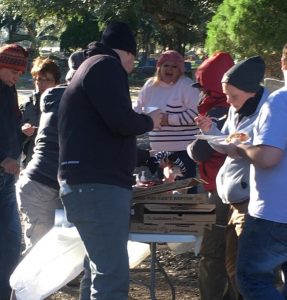 Our field day was cut short today because an extremely gracious lady from Falfurrias brought us a hot dinner (rice, beans, brisket and pizza).  She even brought warm socks for everyone in the group. This act of kindness shows the magnitude of generosity that majority of the visitors that we get at the cemetery have towards our group. The food was absolutely amazing and was greatly appreciated by all, it was a lovely end to a hardworking day. Tomorrow our plan is to head out to the cemetery at 7am and to immediately start on our quadrant in hopes of making signifiant progress. However, if we have learned anything this far; it is to expect the unexpected, so who really knows what tomorrow will bring.