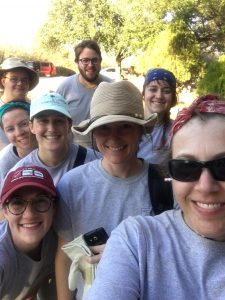 The UIndy group is decreasing in numbers rather quickly. Ryan was only able to join us for his day off from work. He essentially came straight to the cemetery when ending one shift, worked the entire next day in the cemetery with us, and then excavated a partial day with us before driving straight back to work. Our three cultural anthropologists have other tasks associated with the South Texas Human Rights Center and are leaving to go back to Indiana in the morning. That means for most of the day today we were a group of 5 tackling what seemed like the impossible: Clear a 32 meter by 10 meter patch of land to a depth of 100cm.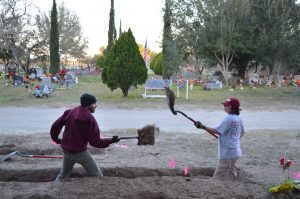 We recreated the 8 quadrant grid that was originally constructed over this portion of the cemetery to organize the excavation efforts. We have started strategically dividing each of these quadrants into a series of deep test trenches. We create 2 parallel trenches running north-south that are 8m in length and 2 trenches that are parallel to each other running east-west that are 5m in length. Essentially we are diving each quadrant like a large tic-tac-toe board. We dig each trench to approximately 60cm in depth and then use a metal T-Probe to investigate beneath our trench floor. Additionally,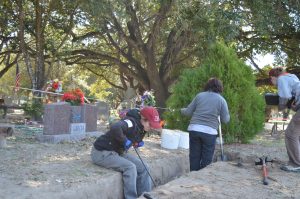 we probe at angles down into the dirt that we did not dig to investigate whether or not anything is buried under the surface as well as probe the surface of the undisturbed areas. If we find something while digging our trenches or with the probe we stop to investigate whether it is the remnant of a burial that was already removed or whether it represents a burial not located by the methods applied in the 2013 field season. Our approach is slow, tedious and back breaking, but it has proven to be successful. Over the next few days the temperatures will be increasing, so we will be challenged by both the heat and our small team numbers. With three quadrants down that leaves five to go in our last two days in Falfurrias.
~KEL