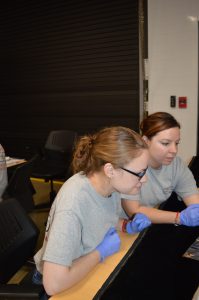 I think my learning style has always been hands-on.  I wonder now if it is because I compensated for my vision problems when I was a child by using my hands or if that is just naturally how I learn.  Regardless of the reason, I am so thankful for the opportunities the University of Indianapolis offers us, to use the knowledge we learn in our classes and implement that knowledge in a real world situation.  It is my goal to become a forensic anthropologist.  I know this will be a tough journey, but I am determined to get there.  I feel so thankful to have two board certified forensic anthropologists to learn from at UIndy.  It is interesting to see how both Dr. Nawrocki and Dr. Latham do things, and how while they both practice forensic anthropology, each professor does certain things slightly differently because that way works best for them.  I really appreciate being able to observe both of their styles, enabling me to gain multiple perspectives of the field.
This semester I took Human Osteology with Dr. Nawrocki, and then I was able to apply the knowledge I gained in his class during our lab days in Texas.  While applying this knowledge, I was also able to observe how Dr. Latham conducts skeletal analyses.  I am so thankful to have had the opportunity to apply my knowledge while observing Dr. Latham because I learned so much in the process.  We each develop methods for doing things that work best for us.  It is often the case that we model our own work after our mentors.  I appreciate being able observe both Dr. Nawrocki and Dr. Latham as they work because they each had different mentors in their time as students learning the field of forensic anthropology.  It allows me to develop my own methods modeled after each of theirs, as I find my way as a student studying to become a forensic anthropologist.
I am so thankful to have had this amazing opportunity to test my knowledge and to further gain knowledge on how to conduct skeletal analyses.  It is one thing to learn in a classroom, but it is a completely different thing to apply what you learned in the classroom to a real life situation.  My time doing lab work in Texas has enabled me to see the areas where I need to further study but also the areas where I feel most comfortable.  It has helped me gain a better understanding of the field of forensic anthropology and it has helped me understand that developing your own style within this field is perfectly acceptable.  I am so glad the University of Indianapolis offers experiences such as these because I feel it was incredibly beneficial to me on so many levels.