Throughout our time here in Texas, we have discussed lessons that we have learned, areas where we have done well, and areas where we can improve at the end of each night. During the lab analysis portion of this season, a lot of these lessons reflected on the education that we have received at the University of Indianapolis. Before our time in the lab at Texas State University, I hadn't fully realized just how much I have learned during my graduate career. And being able to apply that learning to such an important cause honestly felt amazing.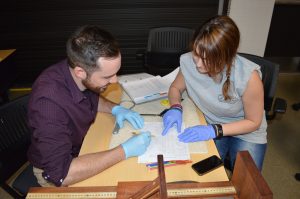 With this being my second time participating in this work in Texas, I have not only been able to apply my education from UIndy but also my experiences from the previous trip in January. In January, however, we were only in the field and did not do any of the analyses in the lab. Therefore, my fellow students and I really had to draw from our education and experience from casework in Indiana to problem solve. And I think we did a fine job. We knew we had a lot to accomplish in our short time in the lab at Texas State and we were determined to exceed expectations. This required a lot of critical thinking and problem solving but I believe that the education and experience that we have all received at the University of Indianapolis really helped us in this regard.
It was a great experience being able to be a little more independent in these analyses, which of course also came with more responsibility. None of us shied away from this, however. We each worked together to figure out the best way to complete each task and by the third day, we had really found our groove. I really believe that in addition to everything we have learned under the guidance of Dr. Latham and Dr. Nawrocki at the University of Indianapolis, our ability to work so well together as a team to problem solve helped us to accomplish everything that we did during this Texas season. And being able to use our skills to contribute as much as we can to a real-world crisis situation that needs all the help it can get really feeds the fire to continue to work hard and stay involved as much as possible.