It has now been just over a week since we returned to Indianapolis from our trip to South Texas. After only two nights back in Indy, some of us returned to the airport to travel to Boulder City, Nevada for the annual Mountain, Desert, and Coastal Forensic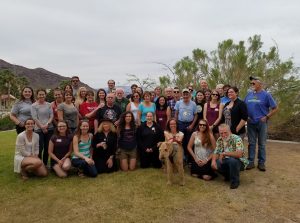 Anthropology meeting, which was a great experience. The theme of this year's meeting, in fact, was a symposium discussing the many aspects of the humanitarian crisis at the border. In addition to giving a presentation myself, there were many presentations from people involved with several different agencies. After having traveled to South Texas twice now, I consider myself fairly involved with the UIndy team's role in this humanitarian work but it was amazing to see all the other people who are involved and how their roles differ from ours. It was also amazing to see just how many people are involved; it felt almost like a community of people, many of whom I had never previously met, who are connected by our service to this cause.
Thinking back to our trip to South Texas, I continue to feel proud of the work that we accomplished together as a team. We faced many challenges, especially in the field, but our ability to work together and use our critical thinking to problem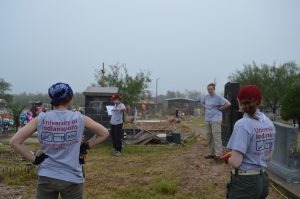 solve allowed us to overcome those challenges, and relatively easily, I dare say. I don't think I will ever cease to be impressed by how this team worked together – everyone contributed so much, I didn't hear a single complaint except for the
typical light-hearted groans about muscle soreness and "bucket bruises," and everyone's strengths complimented each other's very well. I am proud to have worked with every member of our team and I know that we have formed a bond with each other, and with other individuals working with this crisis, that will last a lifetime.
Accomplishing our goals in South Texas is only one small step towards exhuming and identifying all of the unidentified migrants who have been buried across South Texas. Some may consider it disheartening to think about how much work still needs to be done – not only would we like to return to Brooks and Starr county, but there are likely many many other cemeteries across South Texas that need to be visited. But these small steps are necessary and represent progress, and after this most recent trip, over 10 more individuals are finally beginning the process of identification. The UIndy team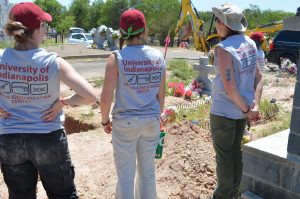 is just one of many who is slowly chipping away at this problem, and I can only imagine that progress will accelerate as more and more individuals become aware of the crisis situation at the border. I know that I will try and play my part in helping to spread this awareness while I am back in Indianapolis, and hope to be able to return to South Texas in the future to continue to make those small steps to eventually identify all of those that have perished crossing the border.