I have been home from Texas for approximately a week.  In the first three nights, I found myself waking up partially from a restless sleep thinking I was still in Texas digging in the field with my team.  The first night I woke halfway, sat up in my bed and thought I was waiting my turn to mattock.  While I truly do love mattocking, at 2am, I could hardly keep my eyes open while I was "waiting my turn."  The second night I woke halfway and I again thought I was waiting my turn to dig.  The third night I again awoke thinking that we were digging and this time it was as if there was a pit between me and Erica and I had to get out of the bed and across the pit to help dig.  Each night I have found myself barely able to keep my eyes open and in my stupor, I feel badly because I feel like I am letting my team down as a result of not being able to keep my eyes open.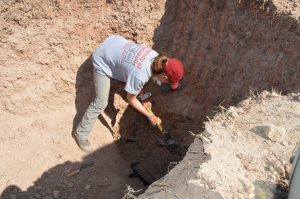 While in Texas, the UIndy team worked at ORPL, the Osteology, Research and Processing Lab at Texas State University to analyze the remains of 9 individuals who were recovered by the UIndy team in January.  We also traveled to Rio Grande City, where we recovered the remains of 5 individuals from the Rio Grande City County Cemetery.
I am distinctly aware that the work we did in Texas does not put an end to the crisis at the border, but I feel so incredibly fortunate to have been a part of the work.  It was such an incredible experience and an emotional one indeed.  When we drove from San Marcos to Rio Grande City, we drove for roughly 4 hours on a road where we passed 1 or 2 cars our entire trip.  On either side of our vehicle were ranches where the brush, cacti and reddish-brown sandy dirt were overwhelming to onlookers.  Temperatures ranged from high 90s to low 100s.  We passed a border patrol checkpoint, and we saw water stations and paths where tires have been drug by border patrol so they may see any footprints of individuals trying to cross the border from Mexico into the United States.  During this road trip, it quickly became apparent why individuals often die when attempting to cross the border.  Heat exhaustion sets in quickly and individuals often do not have a clear idea of how long it will take them to cross from Mexico into the United States.  When we were working in the field on our last day in Rio Grande City, it was a heat index of 117 degrees Fahrenheit.  We each worked for 2 minutes mattocking and shoveling, and then we each took an 8 minute break.  To some this will sound absurd.  However, I can assure you that there was no way we could have worked for more than 2 minutes at these tasks without quickly finding ourselves in an emergency room at the nearest hospital.  We each drank incredible amounts of water to keep ourselves hydrated.
Our experience working in the field at the Rio Grande City County Cemetery and driving to Rio Grande City was an incredibly eye opening experience.  On our drive to Rio Grande City, I looked out the window from the back seat of an air conditioned van and my heart was heavy for individuals trying to cross into North America.  The journey seems terrifying from an onlooker perspective.  I feel so incredibly fortunate to have been able to be a part of this work.  Growing up in Michigan, I was not exposed to any happenings at the border.  This trip has grown my awareness tremendously.  I really enjoyed being able to tour the Texas State University facilities and getting to meet the graduate students and some of the faculty of the university.  Overall, this trip has had an incredible impact on me personally.  There isn't a day that goes by now that I don't think of those individuals who are lost or trying to cross the border.  I hope this work will continue for years to come to identify individuals lost in this crisis.