11 days (as I write this).  I cannot believe that we only have 11 days before we leave for Texas!  I have been so caught up in final exams, presentations, and finishing PhD applications that it hasn't hit me until now that we are leaving so soon. I am both excited and nervous for this trip. There will be many "firsts," and because of this, I am not quite sure what to expect!
This will be our first trip to Willacy County.  This means that we do not know what the soil consistency will be like, what the weather will be like, what the burials will consist of, or how the local community will react that what we are doing.  Willacy Co. is located about one hour northeast of McAllen, TX, where the Sacred Heart Humanitarian Respite Center is located.  During our trip last January, we traveled from Falfurrias to McAllen to visit the respite center and aid the volunteers with welcoming, feeding, and clothing the individuals who crossed the border and sought asylum.  It will be nice to be so close to McAllen and have the constant reminder of this amazing organization and all of the incredible individuals who volunteer their time and goods to help these migrants.
This will be our first time conducting exhumations on private property.  The exhumations in Falfurrias and Rio Grande City both took place in county cemeteries, so this aspect of the trip will be a completely new experience for all of us.  I look forward to learning and understanding how to navigate this process a new way.
This will be my first time having a mapping apprentice.  In past field seasons, I have been on my own when creating the hand-drawn maps, and I have relied on my judgement and experience when setting up a baseline and choosing data points.  This trip, I will need to teach and involve Sammi in all aspects of the map-making process so she can continue this task after I leave UIndy.  Choosing points in the field to create a map is actually a very complex decision-making process!  It involves a constant dialogue in your head, going through a million "what-if" scenarios and asking yourself numerous questions before you decide on a specific technique that will work most efficiently.  Over the past two field seasons and numerous forensic cases, I have learned how to navigate map-making in a way that makes sense to me personally.  This season, I will have to learn how to teach this to Sammi.  I think this will be difficult because creating a map is a fluid process – every scene is different and every cemetery we have been to in Texas has been different and has required a unique mapping process.  I think this concept, as well as the small nuances that go into mapping decision-making, will be the hardest to teach Sammi. I hope that I can teach her in a way that makes sense to her and that she can adapt to other mapping endeavors in the future!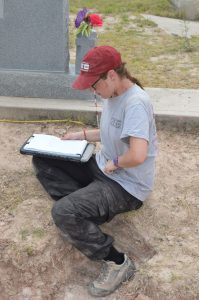 I am so excited and grateful to be able to return to South Texas for the third time to aid in this amazing humanitarian mission!  I am filled with both excitement and nerves for all of the new things we will experience in Willacy Co.  Despite all of these "firsts,"  I am incredibly confident that our team will be able to accomplish everything we set out to and more.
See you soon, Texas.
–Leann