In less than a week (as I'm writing this), our group leaves for another trip down to South Texas to assist in the humanitarian effort of identifying the remains of migrants who perished along the US-Mexico border. The first step in this process is the field season (exhuming the remains) and is sometimes the hardest step. This will be my third trip to Texas and even though I've been before, I cannot help but to feel a little anxious. My first trip to Texas, our group was at Sacred Heart Cemetery in Falfurrias, Texas which is place where several field seasons had occurred prior to my visit. In our group, we had members that had been to Falfurrias before which made it less apprehensive because I at least knew what to expect in terms of soil consistency and weather. Although, my very first trip to Texas in January 2017 saw record low temperatures in the 30s which none of us were prepared for. It all plays to our motto of 'expect the unexpected' and there was no way to know we would be bringing the cold, Indiana weather with us to Texas.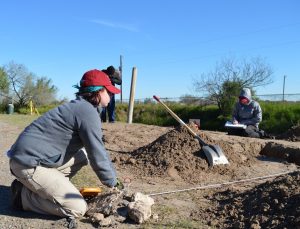 My second trip to Texas brought our group to a whole new city and cemetery. Although our group spent weeks carefully packing and deciding what tools to bring, nothing prepared us for the soil consistency that we found in Rio Grande City Cemetery. The soil consistency was more similar to cement; hard, compact, rocky soil that could only be penetrated by heavy machinery or a mattic. One of the many differences between Falfurrias and Rio Grande City was that in Rio Grande City, the graves were marked and the cemetery employee who actually made the graves years' prior, was on scene to help us. The cemetery employee, Sylvestre, was a huge help in locating and systematically excavating the dirt until we were close enough to the actual burial that we could proceed with using our hand tools. As it turned out, the burials were closer to 5-6ft deep in Rio Grande City Cemetery versus only being 3-4ft deep in sandy soil like the graves in Falfurrias.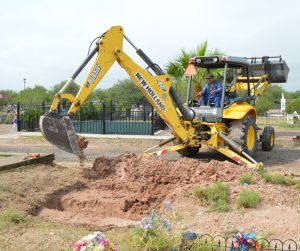 For my third trip to Texas, I am not sure what to expect because I feel that the Sacred Heart Cemetery in Falfurrias and the Rio Grande City Cemetery were at opposite ends of the spectrum in terms of soil consistency and knowing the exact places were migrants were buried. What I do know, is that our team has a knack for adapting to our environments and always tackling surprises head on. Expect the unexpected is a motto we work by and it has helped us a great deal. I may be feeling apprehensive and a little anxious right now, but I know once we get to Texas, those feelings with dissipate. I am extremely grateful to have the opportunity to go back to Texas and help in this humanitarian effort. This experience changes you as a person and to be able to go back for a third season gives you a bittersweet feeling. Right now, I am going to spend the holidays with my family and thinking about the adventure that lies ahead in South Texas. I am unbelievably excited to be a part of this humanitarian effort and I am ready to start another field season with our amazing group from UIndy and Texas State University.