"Uncharacteristically hot," the radio host said as he reported today's weather in Falfurrias. My thoughts? If it's going to be uncharacteristically hot for Falfurrias, then it is definitely going to be uncharacteristically hot for us. And the weather did not disappoint!
We began our day bright and early in order to avoid as much of the afternoon heat as possible. We rolled in to Whataburger to get our breakfast taquitos (yum!) before the sun was up, and by the time we made it to the ranch to begin our search, the clouds were providing a nice cover from the sun, keeping the air (relatively) cool for the first couple of hours of our day. I jokingly declared that if I kept my sunglasses hooked to the front of my t-shirt, the skies would remain overcast for the rest of the day. Of course, true to Texas form, I spoke too soon and the sun quickly peeked out from behind the clouds, and with it the temperatures rose.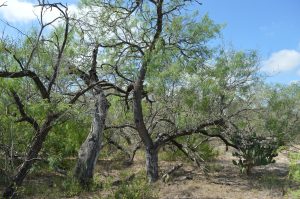 We covered a significant amount of ground while searching on the ranch, bobbing and weaving our way through the spider- and tick-infested thickets, keeping our eyes peeled for any signs of migrants that may have crossed through the area. We were looking for things such as personal effects that may have given us clues as to the last whereabouts of anybody passing through, trails that may have indicated higher traffic areas, and, of course, any signs of human remains that may need to be recovered. As the day wore on, the temperature rose, and our feet grew weary from walking on the sandy terrain for miles, so we decided to head in a bit earlier. The UIndy team, along with Eddie and Jeff, decided to take advantage of the extra afternoon time to take a trip to Roma to see the Rio Grande River on the U.S.-Mexico border.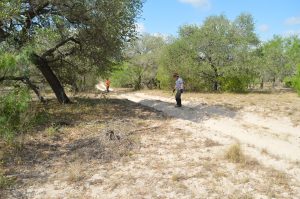 Dr. Latham, Haley, and I had all previously taken this trip in May 2017 and so we were delighted to be driving through Rio Grande City to share this experience with our rookies, Rachel and Angela. We also remembered how much hotter it was on the Roma overlook, despite being just over an hour south of Falfurrias, and this time was no different! Roma is a great little town directly on the border, with some gorgeous colorful buildings and one of the world's greatest bird sanctuaries. It also provides access to some stunning views of both the U.S. and Mexico sides of the Rio Grande River, with the sheer drop offs on the banks of the U.S. side reminding us of the many obstacles facing those who are attempting to cross the border. After spending some time gazing out across the overlook in the hot sun, we were all ready to cool down. Eddie suggested we stop by a snow cone stand on the way back to Falfurrias and we all happily obliged. With the menu mostly in Spanish with small, difficult to see pictures, most of us took Eddie's advice and ordered the "Mangonada," a deliciously fruity frozen beverage with a little chili powder kick!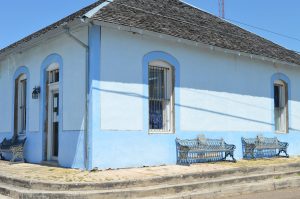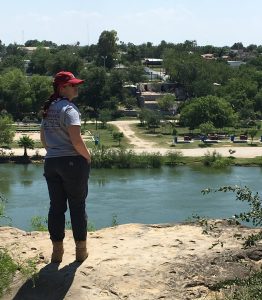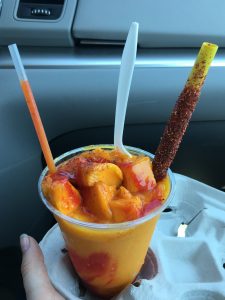 With our refreshing beverages in hand, we headed back to Falfurrias to plan for our final day in Falfurrias. Today was a great day, and I think we all feel refreshed and invigorated to begin early again tomorrow to cover some more ground on the ranches and repair some more water stations across Brooks County. I can't believe we only one more day left for this trip, but already feel so grateful for this experience and for all of the experiences and opportunities that we have been able to share with Eddie and Don.