13, 66, 79, 160, 23. These are so much more than random numbers. We have worked tirelessly over the past week and today was no different. Our last full day in Falfurrias began bright and early for two reasons. First, we wanted to try and beat the triple digit Texas heat, but we were also so anxious to get started as we knew this would be our last chance to get as much done as we possibly could. The team was incredibly efficient with our line searches this morning and covered approximately 5 miles of the ranch with the assistance of Don, Eddie, and a third volunteer.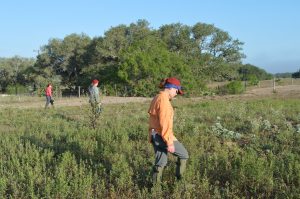 After a quick lunch break we serviced 34 water stations by splitting the route between two groups. Haley and myself traveled with Eddie and were lucky enough to come across a rancher who was so kind and supportive of the work conducted by the South Texas Human Rights Center (STHRC), and it really speaks to the character of the people  of Falfurrias.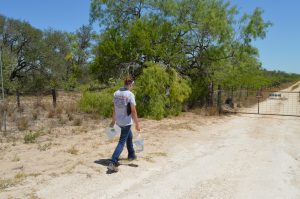 For the evening we headed to McAllen to meet up with Sister Pam who has assisted previous field seasons but whom I had never met (all the wonderful things I had heard about her are absolutely true). We visited the border wall before going to Palenque Grill for dinner and live mariachi music. It was the perfect way to end our evening.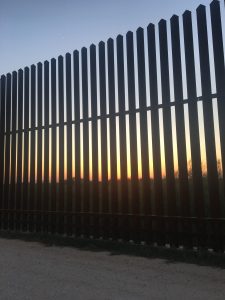 Our time in Texas has come to an end and I am so proud of all we were able to accomplish here. Our mission was to provide humanitarian aid to those who desperately need it, including both the living and the dead. Without the support of the ranch owners, the expertise of Deputy Don, the endless work Eddie performs on a daily basis, and encouragement from people like Sister Pam, our team would not have been successful. We are so humbled and extremely grateful to have such hardworking and generous people to work along side. There is so much work that still needs to be done. It can be overwhelming when we're standing on an acre of land among thousands that still need to be searched, but with every inch of land covered, and with every water station built and filled we are making progress. 13, 66, 79, 160, 23: five numbers that mean so much. We installed 13 new water stations. We serviced 66 additional stations resulting in a total of 79 water stations that were filled with 160 gallons of water. We covered approximately 23 miles of rough terrain under the Texas sun by foot. For us these numbers represent lives saved by available drinking water, these are areas of land that have been narrowed down for future searches, recoveries and identifications that can bring families closure on missing loved ones. These numbers are proof that every small action can have a big impact. Thank you Texas, you have forever changed me and I hope to continue this humanitarian work in the future. Until next time!
– Angela