On the first day we arrived at the South Texas Human Rights Center at the same time as Eddie and Deputy Don. Eddie unlocked the center and rearranged to get enough chairs at the table in the middle of the front room and then his phone rang. "I have to get this", he said and walked to the back room. He was gone for just a few minutes. As he walked back into the front room he said "This is the year of the widow/widower maker. Every call is from a wife with her children in the US already or a husband with his children in the US already. They came first, are waiting on their spouse to arrive and lost contact." He explained that this woman lost contact with her husband last week and his last known location was Brooks County. Eddie's first step was to see if he had been detained and is being held somewhere. This man had not been apprehended so Eddie had to tell her that her husband is officially missing. "She is devastated", he said. "I could tell she was devastated and it will just get worse as it sinks in. I told her she has to get more information before we can go search for him. We need to know more about his location." Calls like these come in daily and are just part of Eddie's many responsibilities as the Director of the South Texas Human Rights Center.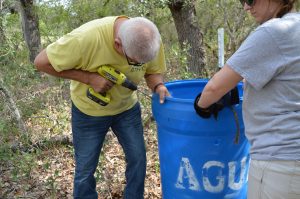 We discovered a backpack partially buried in the sand while on one of our searches. Inside were several items that had been protected from the environment because there were wrapped in plastic bags: socks, a hat and a blanket. Brooks County Sheriffs Department Deputy Don White carefully laid the pair of new socks on a tree branch saying "These are really nice. I'm going to put them here so someone who needs them will see them."  He repeated this for the other items in the bag. Deputy White volunteers to do this once a month with the Texas National guard. In addition to his duties as a Brooks County Deputy Sheriff (which is also volunteer as the county cannot pay for a large department) and his work in security and traffic that pays the bills, Don walks the brush in Brooks county looking for people in distress, human remains and personal items that might tell the story of where to find someone who is reported missing.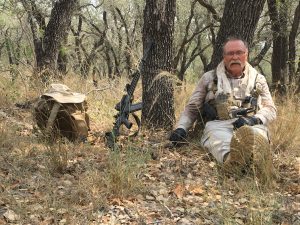 These two volunteer countless hours to finding people in distress, preventing deaths and saving lives. The Beyond Borders team extends its gratitude to them for educating us on these issues and allowing us to assist them in their efforts. We have learned so much in our short time there and experienced things that will change us forever. One of the easiest way you can contribute to this crisis is to educate yourself on the truth regarding what is happening at the US-Mexico border and bring awareness to this crisis.
~KEL