Hello everyone! Thank you for following us so far into day two of our Beyond Borders
January 2019 field season. As your dedicated mapping apprentice, I can tell you that after 22 years of doing little to no intense physical exercise, I am sore from head to toe. We have been at the Sacred Heart Cemetery for a total of almost 20 hours and I reckon 17 of those hours were spent digging or doing some other form of physical activity, with the other 3 consisting of water breaks, lunch breaks, and mapping/strategizing. That may seem tough to the average person, yet we have all thoroughly enjoyed the time we have spent there so far. By the time we cheers with our Mexican Coca-Colas at the end of the day, I can't believe the day is over and we have done so much work. Time flies.
Today we dug 3 ½ trenches, some of them almost 1 meter deep. At our briefing last night, we discussed that previously at this cemetery, remains have been found as far as 140cm deep. So as a team, we decided to dig and probe deep today in order to be confident that we were being as thorough as possible.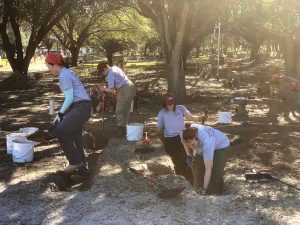 If we do not find remains in our area, at least we know that we have done all that we could have to be sure. Clearing a site is just as important as finding remains. If we clear our area and do not find any remains we can be confident in moving onto another area, and tick Area #24 off the list of possible burial sites.
I have never done an archaeological dig before, and I am learning so much so quickly. How to properly dig test pits, probe, take measurements, map, and various other methods and tasks. I am so fortunate to be learning mapping alongside Sammi. She is allowing me to help construct the map both in the field and when we get back to the hotel at night. She is mentoring me instead of instructing me which I really appreciate.
As you will read in Sammi's blog tonight, the work that we are doing is impacting the community greatly. It is keeping our spirits up, knowing that the work that we do is not just meaningful and interesting to us and the families of the decedents, but also to those who have allowed us into their community.
All in all we have had a good couple of days in site. Lots of learning, lots of digging, and no lack in moral or motivation within the team. Again, thank you for following along; see you again tomorrow!