This was our second day searching for migrant burials in Sacred Heart Cemetery, and we truly began to notice how much this volunteer effort means to the Falfurrias community. Word of our presence has surely been spreading since we received many more visitors and curious spectators from the town. We experienced a variety of different reactions to our work. Some people stared as they drove by our site, some waved, some came and offered to bring the team lunch and thanked us for our efforts.
I had the unique opportunity of attending a press conference today that was organized by Eddie Canales at the South Texas Human Rights Center. As a graduate student, it is invaluable to observe professionals in the field as they interact with the public and media. I think it is incredibly important that experts in this topic have the opportunity to speak to the public and provide truthful information about the type of work we are doing and our motivations for doing it. It is so easy to spin things out of context and to politicize the identification of unknown migrant decedents. In reality, the core of this work is that all humans are treated with dignity in life or death and are given an equal chance at identification if we can provide the resources to help
do so.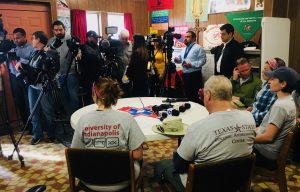 Dr. Latham sat on a panel with some other forensic experts who play an active role in identifying migrant burials. There was press from at least 4 news stations, and it was nice
that they were able to have a light question and answer session to discuss the roles and techniques employed by the different volunteer organizations.
After we finished the long day of excavating, we stopped at the gas station for some Laredo Tacos. And WOAH, let me tell you: this barbacoa taco I had was one of the best I've ever had. While we were there, a few of us were approached by some people in the community who took an interest in our work. They wanted to know what we had found so far and how it was going at the cemetery. Compared to the field season last January, there is already a huge difference being in Falfurrias at a public site. I appreciate the ability to feel how deeply the humanitarian crisis impacts the locals in different ways.