Day 6. We are officially more than halfway done with our trip here in Falfurrias. Yesterday gave our bodies time to recharge and showed us a broader scope of the migrant crisis. Even though some days felt like we were barely moving inches of dirt, our renewed sense of energy allowed us to finish our second root-filled section before lunch and move on to our third, and largest section yet. After dealing with enough roots to last all of our lifetimes, we were excited to find that our new section had very few roots, and areas with nice, soft soil.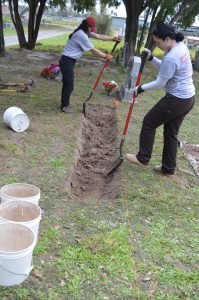 Unfortunately, little roots meant no tree cover, and we were exposed to the sun on the hottest day of our trip thus far. Humidity levels were also high, and there were a few drizzle showers in the morning. We decided to tackle our large area by making two large trenches on either side and then shorter trenches perpendicular to those, much like rungs on a ladder.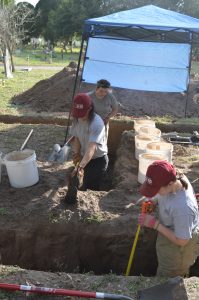 Deputy Sherriff Don White was kind enough to help us move a lot of the dirt we were digging, allowing us to continue our trenches with fewer interruptions from emptying buckets – Thanks Deputy Sherriff White! The heat required more frequent water breaks, and by lunch, all of us were soaked in sweat and covered in dirt. Despite this, our team decided to take a later lunch than usual because we were so motivated to continue the work we came here to do – recover the remains of migrants who have been buried
unidentified so hopefully, one day they can be returned home, and their families will have the answers they most certainly wish for. By the end of the day, we reached our goal of finishing the two trenches left in our second (root-filled) section, and digging three trenches in our newest third section.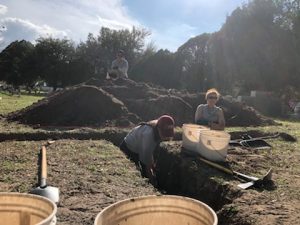 Even though the UIndy team has not made a recovery yet, we know the work we are doing is important to the greater Beyond Borders/Operation Identification project. Every area we clear is one less that future teams have to worry about searching. Every area cleared means that focus can be put on other areas of the cemetery that have not been searched. This season has not been easy – there have not been markers showing us where the unidentified are likely to be buried, and there seems to be no consistency in where remains are found. We have had to rely on past experiences with recoveries at Sacred Heart, as well as Ground Penetrating Radar (GPR), which can detect disturbances in the soil, but does not guarantee that these disturbances are the result of human burials. This means that the areas currently being searched are the areas considered more likely to have unidentified migrant remains. Often times this leads us to corners of the cemetery, which are considered undesirable locations to sell to the public, or areas between plots that may not be big enough for standard coffins. So even though we have not made a recovery, we remain determined to check every area we possibly can while we are here, because we know that there are more remains at Sacred Heart just waiting to be found. Our bodies may be tired, but our passion for this initiative keeps us going. The unidentified deserve to have a name, and their families deserve answers. Six days down. We have three digging days left, and I can guarantee you that this team will use every minute moving as much dirt as we possibly can.
Thanks for reading!